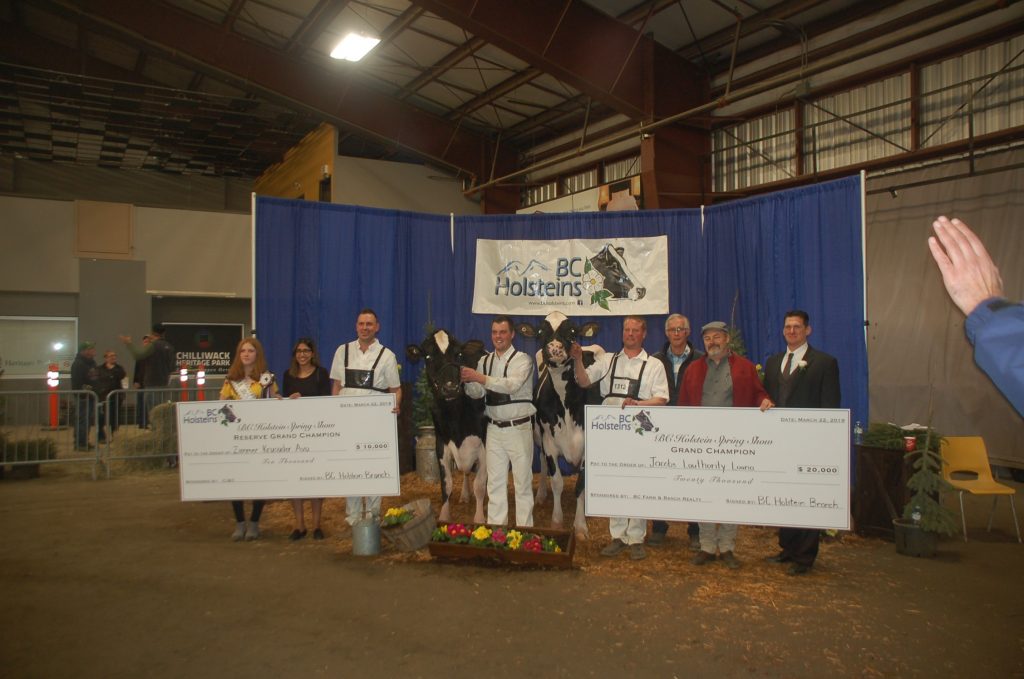 March 27, 2019
by DAVID SCHMIDT
Ferme Jacob of Quebec captured the top award but Westcoast Holsteins of Chilliwack took home the lion's share of the prize money at the 2019 BC Holstein Spring Show in Chilliwack on March 22.
Co-owner Pat Conroy of Indiana led Ferme Jacob's outstanding mature cow, Jacobs Lauthority Loana, to the grand championship of the show.
With over 200 animals entering the ring, this was the largest show in BC in many years. It was also the first time since 1969 that a show string from east of Manitoba exhibited at the BC Holstein Show.
Thanks to generous sponsors, the BC Holstein Spring Show was able to offer a prize pool totaling $240,000. This was more than double last year's prize pool, making it the richest dairy show in North America this year.
Although the grand prize eluded its cows, Westcoast Holsteins took home more than $100,000 in prize money. It was named both the overall premier breeder and premier exhibitor of the show, and tied with T&L Cattle of Chilliwack as the premier exhibitor of the junior show. Junior three-year-old Maiz-n-Blu DB Scarlet-Red led Westcoast's show string, and was named the show's intermediate champion as well as its reserve red and white champion.
Ferme Jacob and Westcoast Holsteins have not only two of the top show strings in Canada but also in North America, regularly placing among the champions of the World Dairy Expo in Wisconsin.
Despite showing just a few animals under its own name, Ferme Jacob brought about two dozen animals to BC. Most were offered for sale in a "tag sale" for three days prior to the show. Those which had not sold by noon Thursday were added to the Westcoast Classic auction, held the afternoon before the Spring Show. That sale saw over 100 animals change hands at an average price of $7,000 apiece.
Topping the sale was Siemers Milk Bombi, a five-month-old calf consigned by Siemers Holstein Farms of Wisconsin. The calf's genomic rating placed her among the top 10 Holstein calves for type in the US. She was sold in absentia to an absentee bidder, Velthuis Farms Ltd. of Osgoode, Ontario, for $200,000.
Tagged in:
Current Issue:
June 2019
Vol. 105 Issue 6
STORIES IN THIS EDITION
First Cut
Hog farm won't face charges
Okanagan drives land values
Where's the beef?
Minister defends Bill 15 changes
Back Forty: Farmers, not just farmland, need revitalization
Editorial: No peace, no order
ALR restrictions make commuting a fact of life
Johnston's Packers targeted by activists
Child labour
Sidebar: When is a crime not a crime?
Berry growers get long-awaited funding boost
Proteobiotics reduce poultry, swine infections
Greenhouse growth stymied by gas prices
Bloom
Increase farm productivity with cover crops
Ag Briefs: Water fees not evenly distributed among users
Ag Briefs: BC Tree Fruits prepares to relocate
Farmland trust explored for Island
New owner, same faces
Fruitful experience
Fruit growers cautiously optimistic on bloom set
Honeycrisp key to success for Golden Apple winners
Changes to slaughter rules taking too long
Going! Going! Gone
Local meat deamnd creating opportunities
Sidebar: Compost in 14 days
Ranch takes pasture to plate at face value
Market Musings: Technology has its challenges
Oliver veggie grower prefers wholesale
Grocer offers tips to get a foot in the door
Greenhouse veggie days a hit with school
Haskap research may help berry go mainstream
Grow up!
Research: Bee sensitivity linked to neonic pesticides
Fraser Valley orchardist calling it a day
Rally cry
Worming his way to the top of the heap
Mushrooms a viable crop for small growers
Island 4-H beef show celebrates 25 years
Woodshed: Deborah starts her vacation a golf widow
Brewery's food program spawns farm project
Jude's Kitchen: Celebrate dads!
More