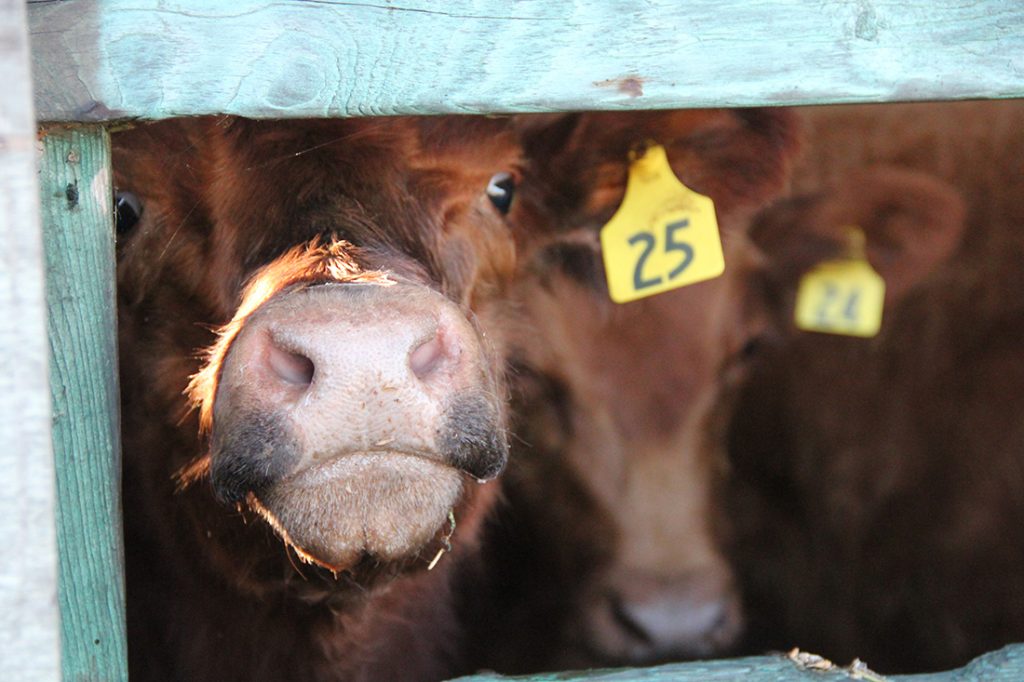 June 12, 2019
by TOM WALKER
Build the brand, then build the plant: that's the recommendation of the steering committee handling plans for a new federally inspected beef packing plant in BC.
"The vision is still to build a BC beef plant in Prince George," plant project team member and consultant Glenn Brand told the BC Cattlemen's Association annual general meeting in Williams Lake at the end of May.
The roadmap laid out by the steering committee acknowledges that animals won't just amble up to the plant once it's built. The roadmap set forth by the committee includes forming a co-op and securing commitments for 5,200 head a year first. Developing the brand and securing toll processing space at an existing plant will set the stage for the new plant to begin operating.
The phased approach will help to alleviate some of the risks that come with building a plant capable of handling 500 head a week without a firm commitment to a supply chain, or an established market.
"Building a 500-head facility is an enormous financial risk," says Brand. "Operating losses in the first four years is where plants have often failed in the past."
By moving forward in stages, the committee expects to mitigate risks for both producers and investors.
The plant will lose money if it is not working to capacity and that relies on two things, Brand points out, having a committed supply of animals finished and ready to enter the plant year round and a market for the product that comes out the other end.
"We will work with the current plants in BC to process on a toll basis," Brand says " And prove our product out in the marketplace."
The steering committee's work is funded in part by a $450,000 grant the province awarded last year to the BC Cattlemen's Association. The plant will likely operate on a co-operative basis. The latest estimates peg the cost of construction at upwards of $30 million.
Related Articles:
Devick Ranch builds Class A abattoir to meet consumer demand
by TOM WALKER HEFFLEY CREEK – Taking the bull by the horns is something the Devick family has been doing […]
Current Issue:
June 2019
Vol. 105 Issue 6
STORIES IN THIS EDITION
First Cut
Hog farm won't face charges
Okanagan drives land values
Where's the beef?
Minister defends Bill 15 changes
Back Forty: Farmers, not just farmland, need revitalization
Editorial: No peace, no order
ALR restrictions make commuting a fact of life
Johnston's Packers targeted by activists
Child labour
Sidebar: When is a crime not a crime?
Berry growers get long-awaited funding boost
Proteobiotics reduce poultry, swine infections
Greenhouse growth stymied by gas prices
Bloom
Increase farm productivity with cover crops
Ag Briefs: Water fees not evenly distributed among users
Ag Briefs: BC Tree Fruits prepares to relocate
Farmland trust explored for Island
New owner, same faces
Fruitful experience
Fruit growers cautiously optimistic on bloom set
Honeycrisp key to success for Golden Apple winners
Changes to slaughter rules taking too long
Going! Going! Gone
Local meat deamnd creating opportunities
Sidebar: Compost in 14 days
Ranch takes pasture to plate at face value
Market Musings: Technology has its challenges
Oliver veggie grower prefers wholesale
Grocer offers tips to get a foot in the door
Greenhouse veggie days a hit with school
Haskap research may help berry go mainstream
Grow up!
Research: Bee sensitivity linked to neonic pesticides
Fraser Valley orchardist calling it a day
Rally cry
Worming his way to the top of the heap
Mushrooms a viable crop for small growers
Island 4-H beef show celebrates 25 years
Woodshed: Deborah starts her vacation a golf widow
Brewery's food program spawns farm project
Jude's Kitchen: Celebrate dads!
More