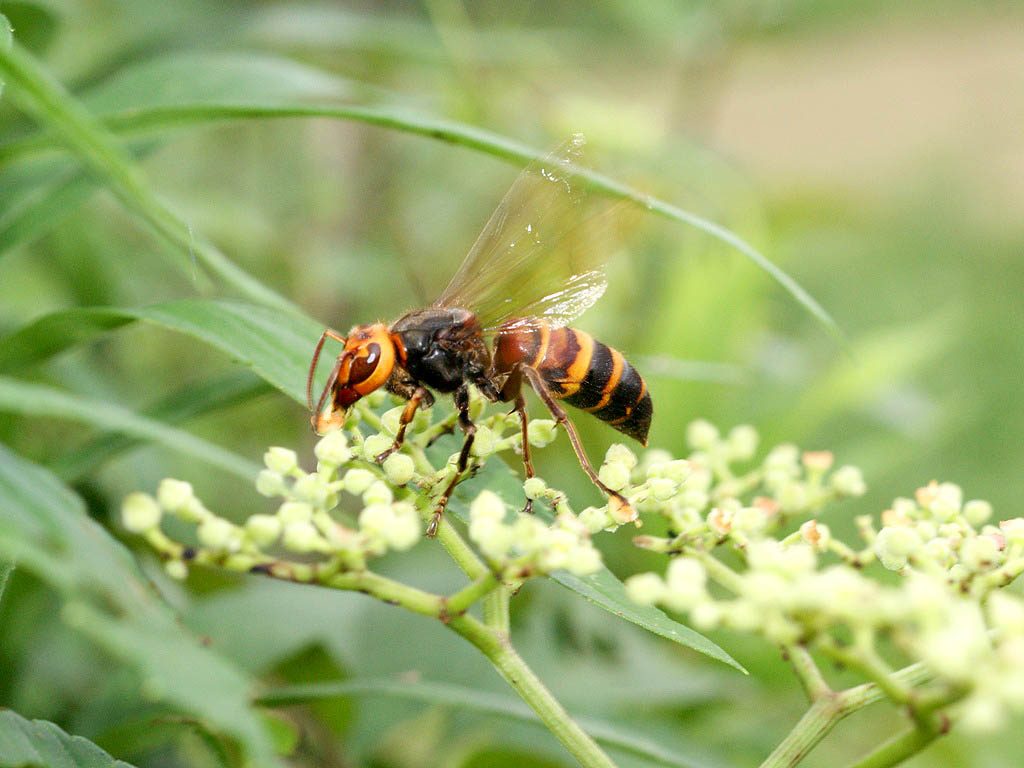 May 29, 2019
by PETER MITHAM
BC beekeepers could be facing a new threat with the positive identification of a hornet native to Asia in Vancouver.
A female black-tailed hornet (Vespa ducalis) was caught in Vancouver on May 10. Researchers at UBC and Japan's Hokkaido University Museum and Ibaraki University confirmed its identity this week.
Wasps are known to devastate colonies, wreaking particular damage in BC last year, but Asian hornets are in a class of their own. Growing up to 3.5 centimetres long – thrice the size of a honeybee – they're opportunistic feeders that will prey on other insects.
The potential for the hornets to establish a foothold in BC has been a topic of concern for beekeepers. It was a cause of some buzz during informal discussions between sessions at the BC Honey Producers Association meeting in Victoria last fall. Some members reported sightings of out-sized hornets in the Lower Mainland, but no one had positively identified the interlopers.
Provincial apiarist Paul Van Westendorp told Country Life in BC that Japanese hornets were not known to be in the province, contrary to speculation.
BC Ministry of Agriculture staff could not provide immediate comment on steps that may be taken to mitigate the pest's spread.
In the meantime, the province is proclaiming May 29 as honeybee day in BC. Displays on the front steps of the legislature will include honey tasting, observation hives and information about bees and other pollinators.
"They might be tiny, but they contribute so much to BC's agriculture industry so come help me celebrate them!" exclaimed BC agriculture minister Lana Popham.
Related Articles:
May 1, 2019
The invasion of an Abbotsford hog farm by protestors shortly after dawn on April 28 was the culmination of days […]
Farmers, apiarists respond to claim of hive shortage and poor health
DELTA – BC blueberry farmers and some apiarists were left scratching their heads after it was reported that there would […]
Current Issue:
June 2019
Vol. 105 Issue 6
STORIES IN THIS EDITION
First Cut
Hog farm won't face charges
Okanagan drives land values
Where's the beef?
Minister defends Bill 15 changes
Back Forty: Farmers, not just farmland, need revitalization
Editorial: No peace, no order
ALR restrictions make commuting a fact of life
Johnston's Packers targeted by activists
Child labour
Sidebar: When is a crime not a crime?
Berry growers get long-awaited funding boost
Proteobiotics reduce poultry, swine infections
Greenhouse growth stymied by gas prices
Bloom
Increase farm productivity with cover crops
Ag Briefs: Water fees not evenly distributed among users
Ag Briefs: BC Tree Fruits prepares to relocate
Farmland trust explored for Island
New owner, same faces
Fruitful experience
Fruit growers cautiously optimistic on bloom set
Honeycrisp key to success for Golden Apple winners
Changes to slaughter rules taking too long
Going! Going! Gone
Local meat deamnd creating opportunities
Sidebar: Compost in 14 days
Ranch takes pasture to plate at face value
Market Musings: Technology has its challenges
Oliver veggie grower prefers wholesale
Grocer offers tips to get a foot in the door
Greenhouse veggie days a hit with school
Haskap research may help berry go mainstream
Grow up!
Research: Bee sensitivity linked to neonic pesticides
Fraser Valley orchardist calling it a day
Rally cry
Worming his way to the top of the heap
Mushrooms a viable crop for small growers
Island 4-H beef show celebrates 25 years
Woodshed: Deborah starts her vacation a golf widow
Brewery's food program spawns farm project
Jude's Kitchen: Celebrate dads!
More