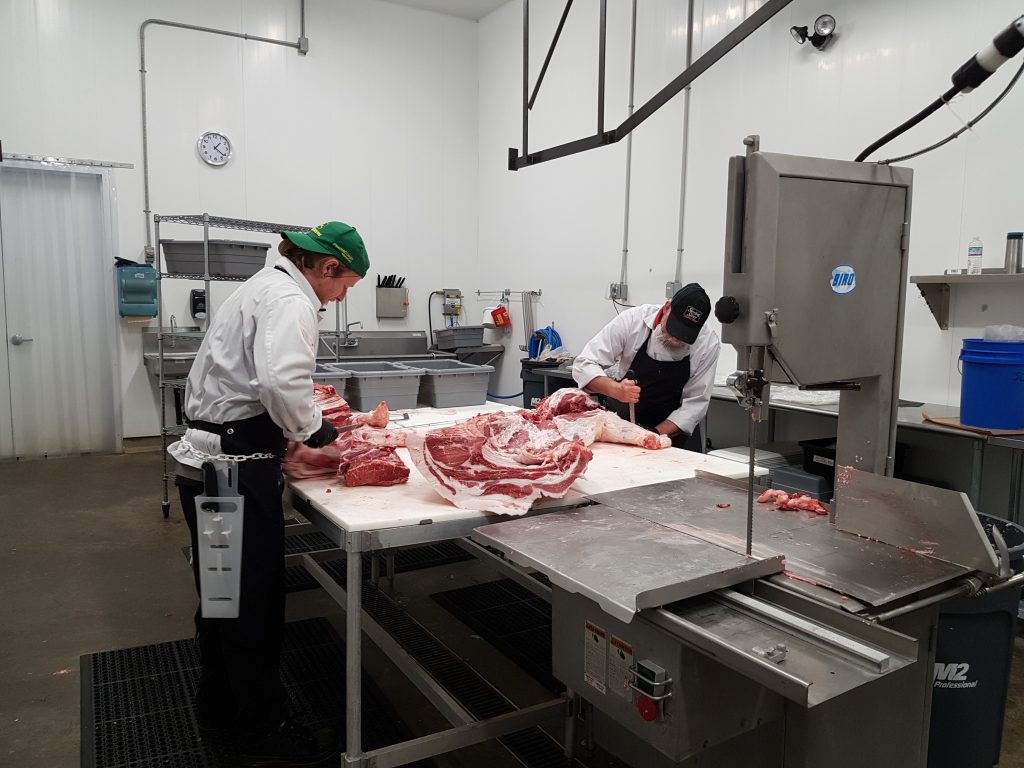 Abattoir operators frustrated by government's lack of action
by TOM WALKER
CHASE – It's been a year of waiting for the meat processing industry in BC, which has yet to see any movement on some of its key issues.
A year ago, optimism abounded when the BC Association of Abattoirs met for its annual general meeting.
The provincial government was wrapping up a survey of class D and E abattoir licensees and the health authorities that regulate them. The legislature's Select Standing Committee on Agriculture, Fish and Food had just announced a study of meat processing in BC.
Both the abattoirs association and the Small-Scale Meat Producers Association expected the consultations would begin to resolve the issues of licensing, inspection, processing capacity and staffing that plague the industry.
But so far it has all been for nought. When abattoir operators held their annual general meeting at the end of April, the frustration was palpable.
"These issues have been the focus of our association's strategic plan for four years," says the association's executive director, Nova Woodbury. "We have been in meetings every year. We spent all last spring on the consultations."
With so much time spent, and so little accomplished, Woodbury says patience is wearing thin.
"There is so much to do," she says. "There are a lot of angry people out there right now."
Opposition agriculture critic Ian Paton delivered the meeting's opening remarks. Paton was a member of the select standing committee, but he didn't have any good news.
"We did this report but we haven't heard anything," he said.
The standing committee heard what Paton calls "some horror stories."
"We heard from D and E operators who haven't had a visit from their regional health authority in over a year," he says. "That is not good enough. If a kid gets sick from some uninspected meat bought at a farmers market, that will bring down the whole industry."
"I don't see anything in the new budget for increased inspection," he adds. "We will be asking the government a lot of questions about meat processing."
Consultation recapped
Gavin Last, executive director of the food safety and inspection branch at the BC Ministry of Agriculture, recapped the consultation on D and E licences and the select standing committee's 21 recommendations.
But he didn't have any specific responses to either report.
"We are trying to deliver improvements that will balance local capacity with competitiveness and enhance food safety and animal welfare, but there has been no formal response from the government as yet," he said.
Last says his branch is taking action in areas where they don't need to wait.
"We have developed and are delivering food safety and animal welfare workshops for rural producers and regional health officers, and we are increasing food safety training for food processors," he notes.
Rules against illegal slaughter facilities continue to be enforced.
"The emphasis has been around preventing unlawful slaughter," he says. "We have been meeting with industry and community organizations and the BC Muslim Association to promote compliance."
Muslim demand for halal (ritually clean) meat products is a particular concern at the end of the fasting period known as Ramadan, which ends this year on June 4.
"The halal meat supply in the Lower Mainland becomes quite an issue around the time of Eid," says Last. "That is when a lot of the unlawful slaughter happens."
One new E licence is certified halal which will help increase supply, Last notes.
The province is also working with local government to address illegal slaughter.
"We were able to shut down three unlawful slaughter operators as a result of bylaw enforcement," he reported.
Agricultural oversight
Tristan Banwell of the Small-Scale Meat Producers Association asked Last if D and E licences might be brought under the agriculture ministry's oversight, as are A and B licences.
"There has certainly been lots of discussion," says Last. "That is definitely one of the biggest questions."
"Where does the drive to get that done need to come from," Banwell asked, impatient for change. "Is it the Ministry of Agriculture or does it need to be at a political level?"
"It involves coordination between Ministry of Agriculture, Ministry of Health and the regional health authorities," Last explains. "Agriculture has the legislative authority over slaughter in the province. We delegated that to the health authorities for the class D and Es."
Richard Yntema of Valley Wide Meats in Enderby asked who was monitoring the compliance of the animal unit allowances for D and E licences.
"It is ultimately the regional health authorities," says Last, but noted that the process is driven by complaints rather than compliance audits.
"So no complaints, no enforcement," said Yntema, with audible frustration.
Last said he wasn't defending the current system, simply explaining it, and said he hoped change would be forthcoming.
"We definitely heard through the select standing committee that more resources need to be directed towards this," he told the meeting.
Related Articles:
Select standing committee calls for more consultation; lacks action
MERRITT – First it dodged half the province by cancelling a week of scheduled meetings in June and now it's […]
May 8, 2019
Ten years after its creation, the BC Association of Abattoirs is waiting for the province to take action on two […]
Originally Published:
June 2019
Vol. 105 Issue 6
STORIES IN THIS EDITION
First Cut
Hog farm won't face charges
Okanagan drives land values
Where's the beef?
Minister defends Bill 15 changes
Back Forty: Farmers, not just farmland, need revitalization
Editorial: No peace, no order
ALR restrictions make commuting a fact of life
Johnston's Packers targeted by activists
Child labour
Sidebar: When is a crime not a crime?
Berry growers get long-awaited funding boost
Proteobiotics reduce poultry, swine infections
Greenhouse growth stymied by gas prices
Bloom
Increase farm productivity with cover crops
Ag Briefs: Water fees not evenly distributed among users
Ag Briefs: BC Tree Fruits prepares to relocate
Farmland trust explored for Island
New owner, same faces
Fruitful experience
Fruit growers cautiously optimistic on bloom set
Honeycrisp key to success for Golden Apple winners
Changes to slaughter rules taking too long
Going! Going! Gone
Local meat deamnd creating opportunities
Sidebar: Compost in 14 days
Ranch takes pasture to plate at face value
Market Musings: Technology has its challenges
Oliver veggie grower prefers wholesale
Grocer offers tips to get a foot in the door
Greenhouse veggie days a hit with school
Haskap research may help berry go mainstream
Grow up!
Research: Bee sensitivity linked to neonic pesticides
Fraser Valley orchardist calling it a day
Rally cry
Worming his way to the top of the heap
Mushrooms a viable crop for small growers
Island 4-H beef show celebrates 25 years
Woodshed: Deborah starts her vacation a golf widow
Brewery's food program spawns farm project
Jude's Kitchen: Celebrate dads!
More