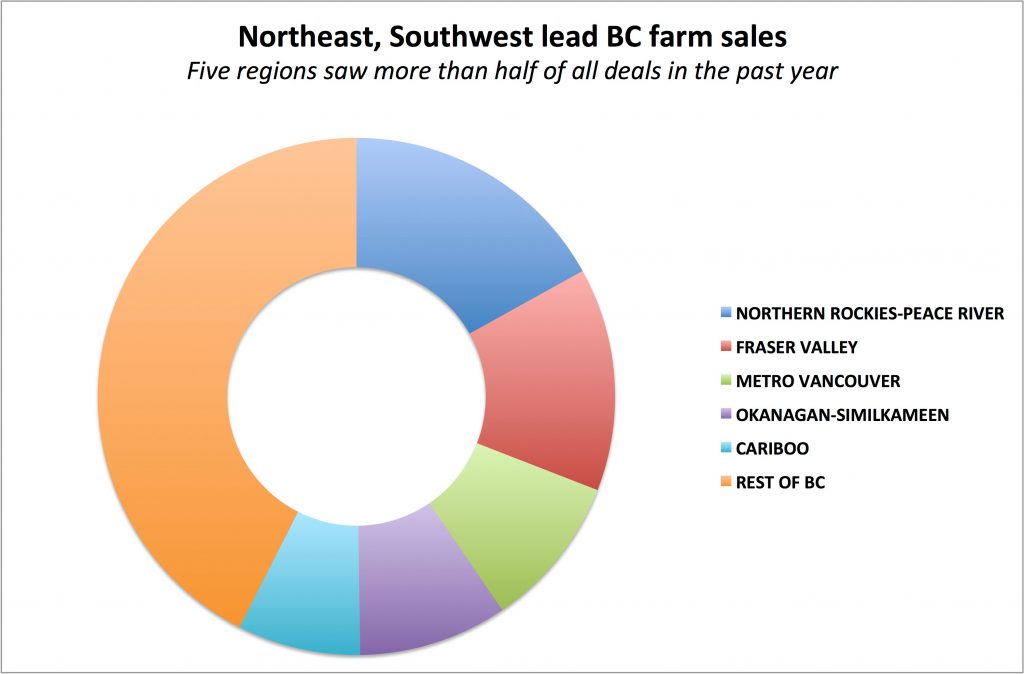 February 6, 2019
by PETER MITHAM
Sales of farm properties in BC rose 57% in 2018, according to the latest property transfer data from the BC Ministry of Finance.
The full-year figures, released at the end of January, show that 1,547 farm properties changed hands in 2018, up from 987 in 2017.
Sales activity was steady throughout the year, with between 110 and 140 sales typically registered each month. The two peak months were May and December, when 161 and 154 properties changed hands, respectively.
Sales were concentrated in the Northern Rockies-Peace, Fraser Valley and Metro Vancouver regions. Sales in each totalled 262, 216 and 148, respectively. However, the top three regions accounted for just 40% of all sales, reflecting the broad geographic spread of activity.
The regions that saw the most dramatic increase in sales activity included the East Kootenay, Columbia Shuswap, Cowichan Valley and Central Okanagan. The four regions saw sales increase by more than 200%, with sales in the East Kootenay tripling to 25.
Current Issue:
April 2019
Vol. 105 Issue 4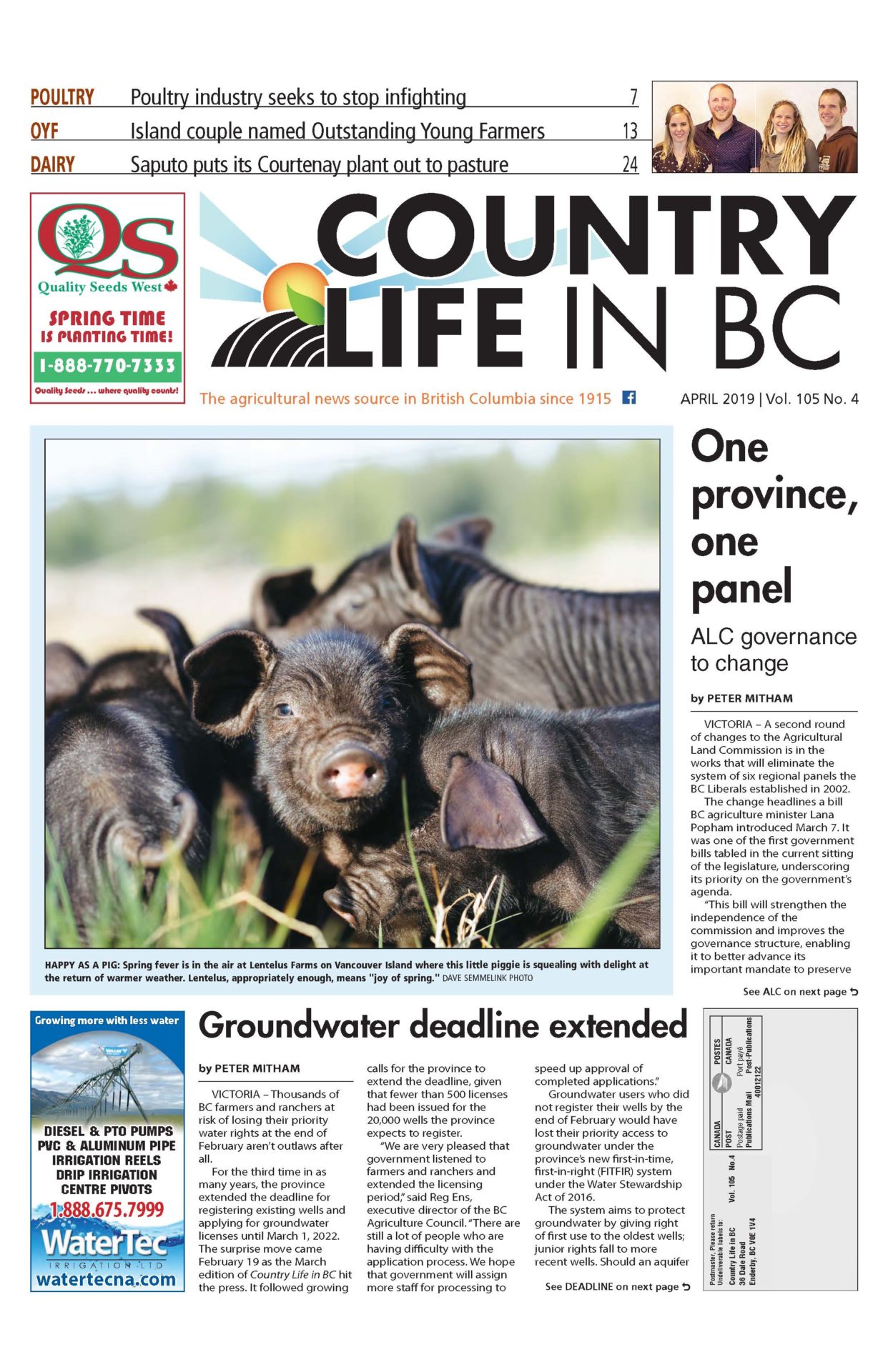 STORIES IN THIS EDITION
One province, one panel
Groundwater deadline extended
Happy as a pig!
Sidebar: Still waiting
Feds pour millions into tree fruit research
Sidebar: Will local procurement help?>
Editorial: Confined spaces
Back Forty: BC farmers need more than a land bank
Island Good campaign drives local sales
Poultry industry seeks to stop infighting
Good egg!
Egg farmers to receive biggest quota boost ever
New entrant focus
Decision day looms for chicken pricing appeal
Producers look to CanadaGAP for certification
Organic sector undertakes core review
Hopping to it!
Island couple named Outstanding Young Farmers
Turkey consumption continues to decline
BC potato growers enjoy a strong footing
Sudden tree fruit dieback a growing concern
Late season BC cherries in global demand
Farmers' markets aim to be local food hubs
Field trial hopes to reduce phosphorus levels
Future looking bright for BC dairy producers
BC could benefit from US trade battles
Saputo puts its Courtenay plant out to pasture
The land of milk and salmon
Sidebar: Farming for the future
Out of the hands of BC farmers
Codes of practice need producer input
Preparation essential for wildfire response
Sidebar: Relief announced for drought, fire
Sidebar: Be FireSmart with these tips
New traceability regs to track movement
Agriculture a notable threat to species at risk
Improper pesticide use threatens access
Threat to neonics spurs scare in spud growers
Orchard presses forward with diversification
Climate-smart growing
Staying on top of soil health is key to sound farming
No small potatoes
Farm families need to have affairs in order
Rotary parlours go upscale at two FV dairies
Study compares organic, conventional diets
Advisory service foresees growing demand
Sidebar: Tree fruit cutbacks a concern
Island dairy producers hone first aid skills
Woodshed: And that's how rumours get their teeth
Research farm showcases small projects
Jude's Kitchen: Shooting stars of spring
More