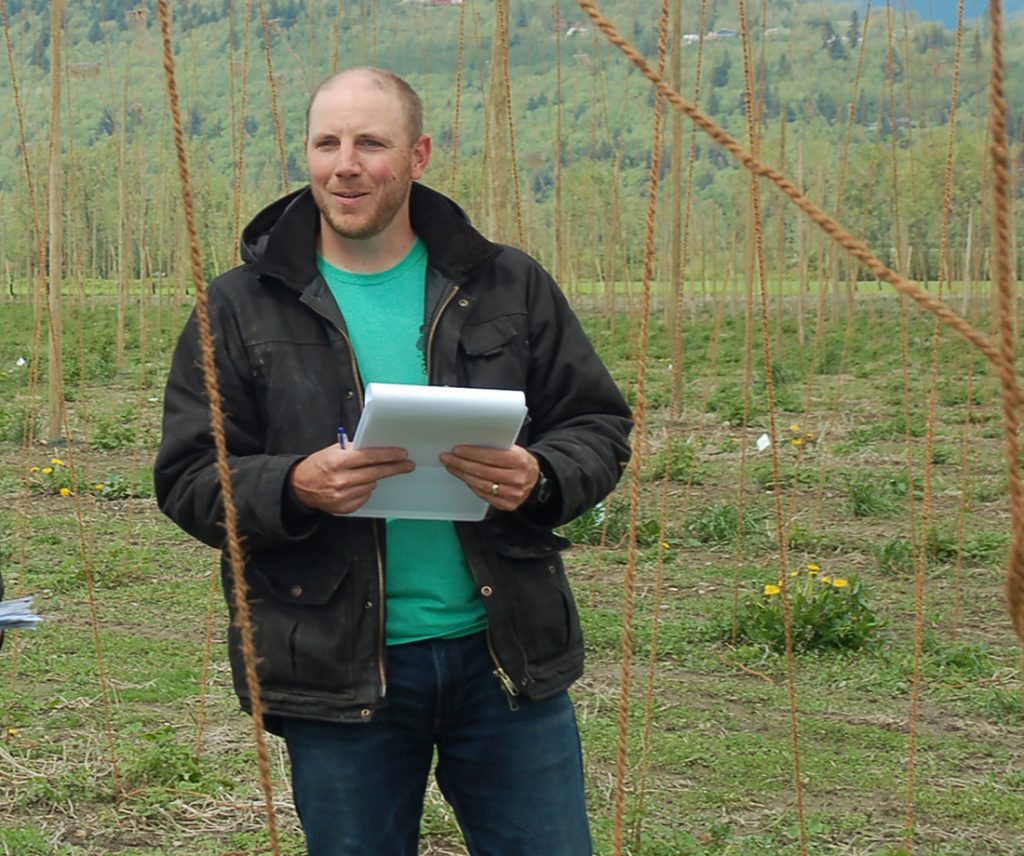 June 12, 2019
by PETER MITHAM
BC's hop industry faces a bright future as the industry consolidates around growers with long-term plans, but plenty of challenges remain.
"We're getting more interest and we're also developing a number of export markets," says Ray Bredenhof of Bredenhof Hop Farms in Abbotsford and chair of the BC Hop Growers Association. "I'm working on international hop deals where I'm going to need hops from more than just my farm."
Bredenhof recently acquired another farm that will boost his operation to 21 acres this year. He also harvests 19 acres for other growers. This has put his business, which includes drying, pelletizing and distributing, at capacity.
But the success stands against a decline in the number of growers from more than 30 last year to about 20 today. Bredenhof expects a net decrease in acreage this year as a result.
Two key challenges are a lack of processing capacity, which meant some acreage couldn't be harvested last year, and competition from other regions.
Consumers opt for local where possible, as the success of the annual BC Hop Fest indicates. It's grown to more than 1,000 people, large enough that the Agricultural Land Commission says it can't take place on farmland. This prompted its cancellation this year.
Yet hops are one local ingredient BC's craft brewers have been slow to source. The oil content and aromatics are key variables among hop varieties, and Lower Mainland brewmasters tend to favour imported hops.
"They've been buying US or New Zealand hops for so long that they're not changing the recipe to fit the BC hops in," says Bredenhof.
BC hops can compete, however. Breweries across Canada and in the US buy Bredenhof's hops, and the quality of the crop is improving as a cohort of commercial growers becomes established.
"The industry is straightening itself out," says Bredenhof. "The growers that are left are more of the higher-quality, long-term committed growers."
Related Articles:
Pest management, financing programs get behind resurgent sector
CHILLIWACK – Fifty years ago, hops were a common sight across the central and eastern Fraser Valley with thousands of […]
January 23, 2019
Spray Creek Ranch of Lillooet has joined a handful of BC producers to receive certification through A Greener World (AGW), […]
Current Issue:
June 2019
Vol. 105 Issue 6
STORIES IN THIS EDITION
First Cut
Hog farm won't face charges
Okanagan drives land values
Where's the beef?
Minister defends Bill 15 changes
Back Forty: Farmers, not just farmland, need revitalization
Editorial: No peace, no order
ALR restrictions make commuting a fact of life
Johnston's Packers targeted by activists
Child labour
Sidebar: When is a crime not a crime?
Berry growers get long-awaited funding boost
Proteobiotics reduce poultry, swine infections
Greenhouse growth stymied by gas prices
Bloom
Increase farm productivity with cover crops
Ag Briefs: Water fees not evenly distributed among users
Ag Briefs: BC Tree Fruits prepares to relocate
Farmland trust explored for Island
New owner, same faces
Fruitful experience
Fruit growers cautiously optimistic on bloom set
Honeycrisp key to success for Golden Apple winners
Changes to slaughter rules taking too long
Going! Going! Gone
Local meat deamnd creating opportunities
Sidebar: Compost in 14 days
Ranch takes pasture to plate at face value
Market Musings: Technology has its challenges
Oliver veggie grower prefers wholesale
Grocer offers tips to get a foot in the door
Greenhouse veggie days a hit with school
Haskap research may help berry go mainstream
Grow up!
Research: Bee sensitivity linked to neonic pesticides
Fraser Valley orchardist calling it a day
Rally cry
Worming his way to the top of the heap
Mushrooms a viable crop for small growers
Island 4-H beef show celebrates 25 years
Woodshed: Deborah starts her vacation a golf widow
Brewery's food program spawns farm project
Jude's Kitchen: Celebrate dads!
More