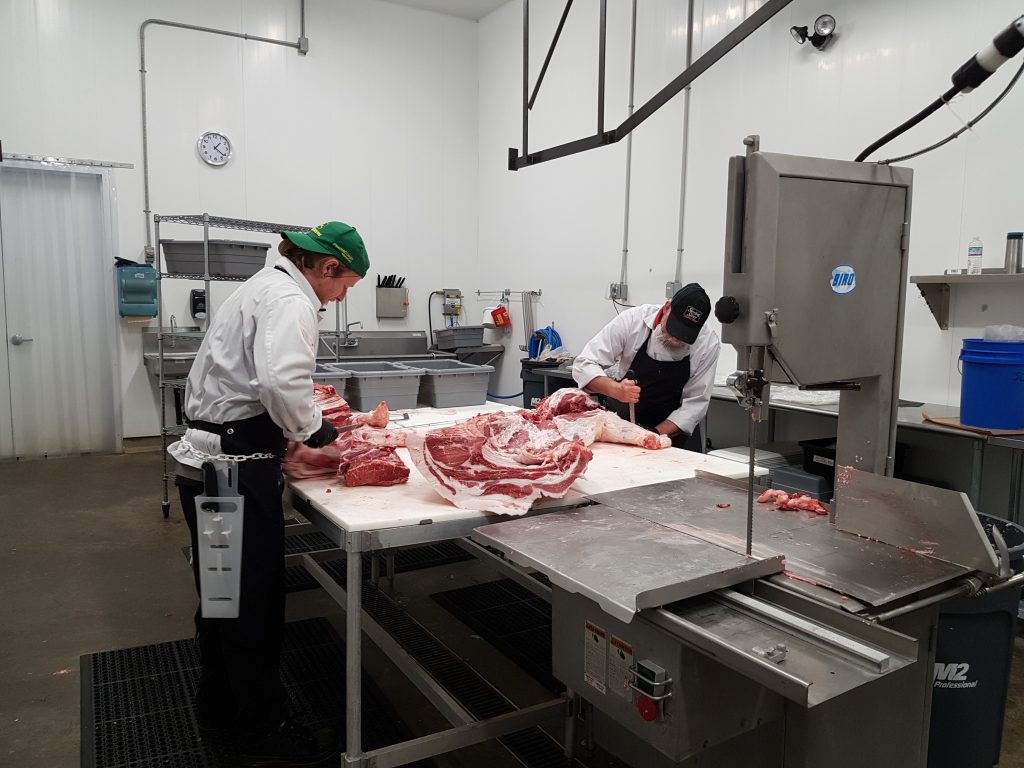 June 5, 2019
by TOM WALKER
The province's claim to be acting on recommendations for strengthening the meat industry is disputed by the BC Association of Abattoirs.
BC agriculture minister Lana Popham has accepted all 21 recommendations of the Select Standing Committee on Agriculture, Fish and Food's report on local meat production and inspection and is implementing them, the June 3 release said.
Government received the recommendations 10 months ago, and the release claimed that it has already made progress on several fronts, including the allocation of $290,000 for food safety and animal welfare training workshops for rural producers, processors and regional health authority staff.
But that's not a new initiative, says Nova Woodbury, executive director of the abattoirs association.
"[It] has nothing to do with the Select Standing Committee," she says. "That training was supposed to have taken place more than five years ago and the money was set aside. They finally released the money last spring following the committee meetings."
The announcement also touts $148,000 for the association to provide slaughter training, but Woodbury says that money was previously allocated, too.
"I've been working to get that going for two and a half years," says Woodbury.
But the most troubling aspect of the government's announcement is a claim to have reduced travel time restrictions between an A or B plant and a class E facility to one hour, meaning that more small, local, 'slaughter only' facilities can be constructed for direct to consumer sales in their own regional district. Woodbury says this will allow more uninspected facilities to open, in direct competition with the more stringently regulated A & B licensed facilities.
"That's frightening," says Woodbury. "I don't know how a responsible government can enable new facilities to be built without more oversight for humane slaughter, food safety and traceability. It is unacceptable to our members."
Woodbury would like the agriculture ministry to oversee all meat inspection, a move that would address five of the standing committee's recommendations.
The ministry also says it's seeking public input on new Class D licence regions "to help alleviate regional or sub-regional slaughter capacity challenges and increase local livestock production." However, it received a separate report on Class D & E licensed facilities a year ago and has yet to implement it.
Tagged in:
Current Issue:
June 2019
Vol. 105 Issue 6
STORIES IN THIS EDITION
First Cut
Hog farm won't face charges
Okanagan drives land values
Where's the beef?
Minister defends Bill 15 changes
Back Forty: Farmers, not just farmland, need revitalization
Editorial: No peace, no order
ALR restrictions make commuting a fact of life
Johnston's Packers targeted by activists
Child labour
Sidebar: When is a crime not a crime?
Berry growers get long-awaited funding boost
Proteobiotics reduce poultry, swine infections
Greenhouse growth stymied by gas prices
Bloom
Increase farm productivity with cover crops
Ag Briefs: Water fees not evenly distributed among users
Ag Briefs: BC Tree Fruits prepares to relocate
Farmland trust explored for Island
New owner, same faces
Fruitful experience
Fruit growers cautiously optimistic on bloom set
Honeycrisp key to success for Golden Apple winners
Changes to slaughter rules taking too long
Going! Going! Gone
Local meat deamnd creating opportunities
Sidebar: Compost in 14 days
Ranch takes pasture to plate at face value
Market Musings: Technology has its challenges
Oliver veggie grower prefers wholesale
Grocer offers tips to get a foot in the door
Greenhouse veggie days a hit with school
Haskap research may help berry go mainstream
Grow up!
Research: Bee sensitivity linked to neonic pesticides
Fraser Valley orchardist calling it a day
Rally cry
Worming his way to the top of the heap
Mushrooms a viable crop for small growers
Island 4-H beef show celebrates 25 years
Woodshed: Deborah starts her vacation a golf widow
Brewery's food program spawns farm project
Jude's Kitchen: Celebrate dads!
More