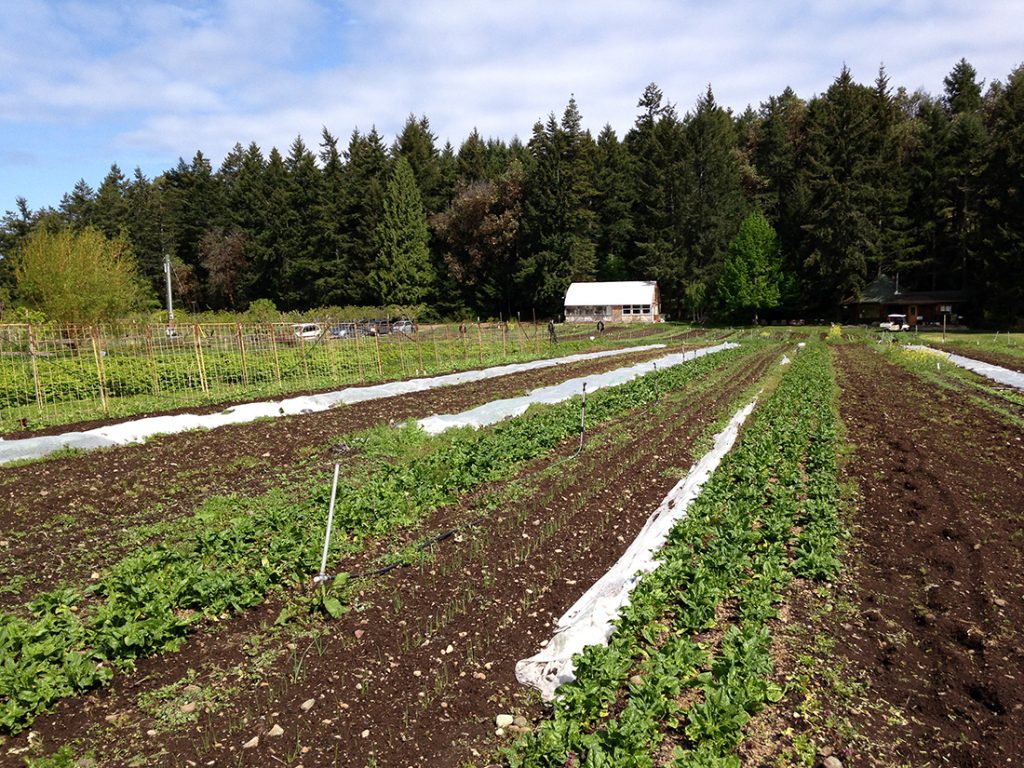 Pilot project yields 16% lift in sales across four Island grocers
by PETER VAN DONGEN
NANAIMO – Farmers, food processors and retailers on Vancouver Island have a new tool in their marketing toolbox to help tap into local consumer preferences for Island products.
"Island Good" is a new brand the Vancouver Island Economic Alliance (VIEA) created last year. The brand was launched as a pilot project aimed at increasing awareness and demand for Island-grown and made food products among mainstream consumers in major grocery stores on Vancouver Island.
"We wanted to test whether the development and use of an Island brand would increase consumption of Island products," explains Dan Dagg, chair of VIEA's Island Good committee and president of Hot House Marketing, which designed the brand. "So we put a bunch of the right people in the room together – retailers, producers and processors –and came up with a six-month test case so we could show some empirical data."
From March 18 to September 19, 2018, four participating grocery chains –including Country Grocer, 49th Parallel Grocery, Quality Foods and Thrifty Foods – ran a point-of-sale campaign in 45 retail stores across the Island. Each grocer submitted monthly reports of 2018 product sales compared with same-store, same-month sales from 2017 for a variety of Island products.
Using the Island Good brand, the retail partners identified their Island-grown and Island-made products with in-store shelf talkers and markers, product stickers, signage and demonstrations by participating producers. With funding support from the Island Coastal Economic Trust and a number of agri-food industry partners, VIEA supported the point-of-sale campaign with a paid multi-media campaign that included print, television, radio, billboard, social media and earned editorial coverage.
"The pilot focused on retail marketing and sales of Island made and grown agri-food, seafood, and non-alcoholic beverage products in major grocery stores," explains VIEA president George Hanson. "We know that Islanders tend to be pre-disposed to supporting local products, so the premise was to make it easier to find local products to see if consumers would respond by purchasing more."
And respond they did.
During the six-month pilot, sales of Island products among the four grocers increased by an average of 16.4%.
"We succeeded beyond anyone's expectations," Hanson reflects. "Consumer response has been phenomenal and, as logically follows, so has industry response from supply and demand stakeholders."
Country Grocer alone saw its sales of Island products rise by more than 45%.
"We are Island owned and operated so it just made sense," says Tammy Averill, marketing manager for Country Grocer. "The impact is huge. It just takes a small shift to make a big difference."
Buoyed by the success of the pilot project, VIEA is making the Island Good brand available for licensing and direct use by anyone in the commercial food and beverage sector. This includes food and beverage producers and processors (including wineries, breweries and distilleries), as well as distributors and retailers such as grocers, restaurants and liquor stores where Island products are sold.
Nanoose Edibles Farm was one of the first farms to apply for licensing. Owned and operated by Lorne and Barbara Ebell, the farm has been growing organic fruits and vegetables in Nanoose Bay since 1989. They sell their products direct to consumers as well as through grocery stores, restaurants and farmers markets in various communities across the Island.
"Island Good is the kind of organization we have been looking for since we began farming 30 years ago," says Barbara. "With Island Good's branding, we hope to attract more attention to our efforts in providing local businesses with certified organic, highly nutritious food."
Ebell notes Vancouver Island currently imports the vast majority of its food. She sees the need for greater production on the Island, and improved support from consumers for what's already being produced.
"More people will purchase Vancouver Island food products if they are more aware of them, both in the stores, and directly at the farms," she says.
Hanson says VIEA has big plans for the Island Good brand, all rooted in the organization's mandate to improve competitiveness and sustainability across all sectors of the Island economy.
"Our ultimate goal is to have every Island product, from potatoes to airplane parts, marked as Island Good," Hanson concludes. "We had to start somewhere and advocating for a point-of-sale pilot project to promote Island products already carried in the stores of major grocery retailers seemed like the easiest starting point."
To learn more about the Island Good program and licensing options, go to [www.islandgood.ca].
Tagged in:
Related Articles:
March 13, 2019
Defining "local" food is a big issue for farmers' markets in eastern BC, which raised their concerns at the BC […]
Originally Published:
April 2019
Vol. 105 Issue 4
STORIES IN THIS EDITION
First Cut
Hog farm won't face charges
Okanagan drives land values
Where's the beef?
Minister defends Bill 15 changes
Back Forty: Farmers, not just farmland, need revitalization
Editorial: No peace, no order
ALR restrictions make commuting a fact of life
Johnston's Packers targeted by activists
Child labour
Sidebar: When is a crime not a crime?
Berry growers get long-awaited funding boost
Proteobiotics reduce poultry, swine infections
Greenhouse growth stymied by gas prices
Bloom
Increase farm productivity with cover crops
Ag Briefs: Water fees not evenly distributed among users
Ag Briefs: BC Tree Fruits prepares to relocate
Farmland trust explored for Island
New owner, same faces
Fruitful experience
Fruit growers cautiously optimistic on bloom set
Honeycrisp key to success for Golden Apple winners
Changes to slaughter rules taking too long
Going! Going! Gone
Local meat deamnd creating opportunities
Sidebar: Compost in 14 days
Ranch takes pasture to plate at face value
Market Musings: Technology has its challenges
Oliver veggie grower prefers wholesale
Grocer offers tips to get a foot in the door
Greenhouse veggie days a hit with school
Haskap research may help berry go mainstream
Grow up!
Research: Bee sensitivity linked to neonic pesticides
Fraser Valley orchardist calling it a day
Rally cry
Worming his way to the top of the heap
Mushrooms a viable crop for small growers
Island 4-H beef show celebrates 25 years
Woodshed: Deborah starts her vacation a golf widow
Brewery's food program spawns farm project
Jude's Kitchen: Celebrate dads!
More