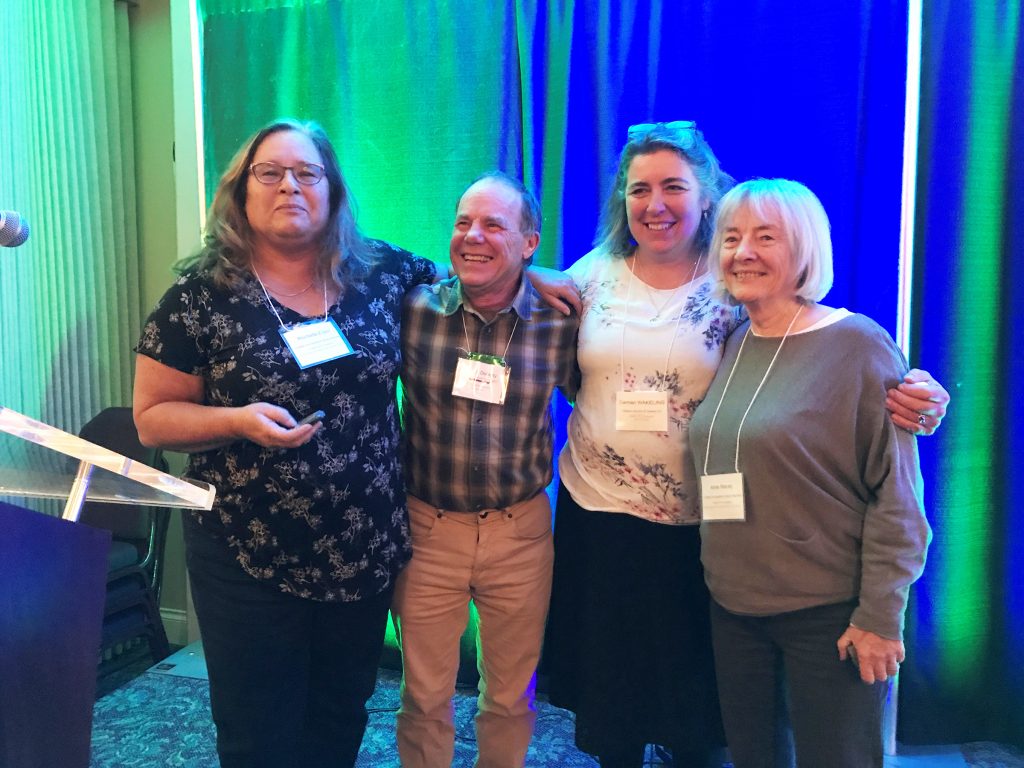 COABC seeks higher profile as organics go mainstream
by PETER MITHAM
VERNON – Celebrating organics while preparing for the next generation of consumers was a key theme of the annual conference of the Certified Organic Associations of BC in Vernon, February 22-24.
An open discussion on Friday night, a Saturday morning panel and a Sunday roundtable all touched on the challenges the sector faces as organic products become the norm rather than alternatives to conventional offerings.
While last year's conference in Abbotsford heard from the sector's pioneers, this year's meeting looked to build on their foundation to serve the first generation raised in homes where organic products were the norm.
But some noted that forerunners such as Aaran Stephens of Richmond-based organic cereal maker Nature's Path Foods Inc. were absent.
"He never comes to these conferences anymore," noted Andrea Gunner during the Saturday morning panel discussion. "People who have been pivotal in growing this industry into much more of the mainstream … should be part of this discussion."
While the conference attracted close to 200 people, COABC reports 764 producers registered with its certification programs in 2018. Nature's Path wasn't the only absence. Some of the province's largest growers were absent, including some from the Interior.
Krystine McInnes of Athena Farm in Cawston is the largest organic vegetable grower in the Similkameen. She believes COABC is a critical organization for organic growers but as a producer farming 60 acres she would like to see it engage in greater outreach and advocacy on behalf of growers in the face of economic pressures and a variable climate.
"Personally, I don't feel there is the value for me as a large producer at these events," she said. "I'd love to see the COABC become a real resource in these times of disaster and crisis, so organic farmers know where they can go and how they can be supported, and to become a leader in – very loudly and relentlessly – educating the public on why supporting BC organic farmers is so important."
Sessions at this year's conference addressed some of the issues concerning McInnes, with presentations on business management and climate change, as well as social issues related to Indigenous peoples and seasonal workers.
The challenge of staying relevant isn't lost on the association, which launched a core review last November to help it become more responsive to the needs of the sector and consumers.
The review coincides with the province's new organic labelling regulation, which aims to reduce consumer confusion. The regulation kicked in smoothly, but using the word "organic" in business names is still problematic.
The province's organic specialist, Emma Holmes, says the ministry's compliance office can't ticket companies as long as the term isn't used to describe the company's products. However, business names are being collected and could be handed over to the Canadian Food Inspection Agency for consideration under regulations governing misleading claims.
Rochelle Eisen, a long-time consultant to the sector and president of the Canadian Organic Growers, told the association's business meeting that COABC membership isn't growing at the same pace as the rest of the organic sector in BC. She feels it needs to reinvigorate its position in the public square, an element of the five-year strategic plan COABC adopted last year. The core review will assist it in meeting those objectives
Raising the public profile of COABC and the organic sector through greater use of the association's checkmark logo is something COABC president Carmen Wakeling would like to see.
The logo has accumulated a degree of brand equity that risks being lost if producers don't exercise it. It provides consumers with a recognizable brand for locally grown organic produce, something Wakeling said supports consumers' desire to support local growers.
"If we can't provide that, somebody else will," she said.
But as farms grow larger, not everyone can use the logo.
Corry Spitters of Oranya Farms in Abbotsford, the province's largest organic chicken farm, uses the checkmark on his business card. But his meat can't carry the logo because it's packaged under the Kirkland brand in a facility not certified through COABC certification bodies.
Such situations are prompting COABC to consider licensing the logo to non-COABC members to identify BC-grown organic products. The idea isn't popular with everyone, but many endorsed the need to build relationships with other organizations.
"The foundation of it is relationships, and communication," said Michelle Tsutsumi, who facilitated the round-table discussion. She encouraged more outreach and connections with farmers and the public, and greater engagement with the world beyond the organic sector.
"It's absolutely essential," Wakeling said "We're scary to the world, I think, sometimes."
She added that growth, even turning a profit, shouldn't be seen as a bad thing.
"It's okay to make money," Wakeling told members. "It's really important for you to celebrate it."
She encouraged growers to see the potential to use money for good, rather than act like it's a bad thing.
"Make sure your company's making money, make sure you're paying yourself, and give back," she said.
Related Articles:
Producers asked to be gentle – not adversarial – advocates for certification
ABBOTSFORD – Provincial regulations governing the use of the term "organic" come into force on September 1. Raising awareness of […]
Originally Published:
April 2019
Vol. 105 Issue 4
STORIES IN THIS EDITION
First Cut
Hog farm won't face charges
Okanagan drives land values
Where's the beef?
Minister defends Bill 15 changes
Back Forty: Farmers, not just farmland, need revitalization
Editorial: No peace, no order
ALR restrictions make commuting a fact of life
Johnston's Packers targeted by activists
Child labour
Sidebar: When is a crime not a crime?
Berry growers get long-awaited funding boost
Proteobiotics reduce poultry, swine infections
Greenhouse growth stymied by gas prices
Bloom
Increase farm productivity with cover crops
Ag Briefs: Water fees not evenly distributed among users
Ag Briefs: BC Tree Fruits prepares to relocate
Farmland trust explored for Island
New owner, same faces
Fruitful experience
Fruit growers cautiously optimistic on bloom set
Honeycrisp key to success for Golden Apple winners
Changes to slaughter rules taking too long
Going! Going! Gone
Local meat deamnd creating opportunities
Sidebar: Compost in 14 days
Ranch takes pasture to plate at face value
Market Musings: Technology has its challenges
Oliver veggie grower prefers wholesale
Grocer offers tips to get a foot in the door
Greenhouse veggie days a hit with school
Haskap research may help berry go mainstream
Grow up!
Research: Bee sensitivity linked to neonic pesticides
Fraser Valley orchardist calling it a day
Rally cry
Worming his way to the top of the heap
Mushrooms a viable crop for small growers
Island 4-H beef show celebrates 25 years
Woodshed: Deborah starts her vacation a golf widow
Brewery's food program spawns farm project
Jude's Kitchen: Celebrate dads!
More