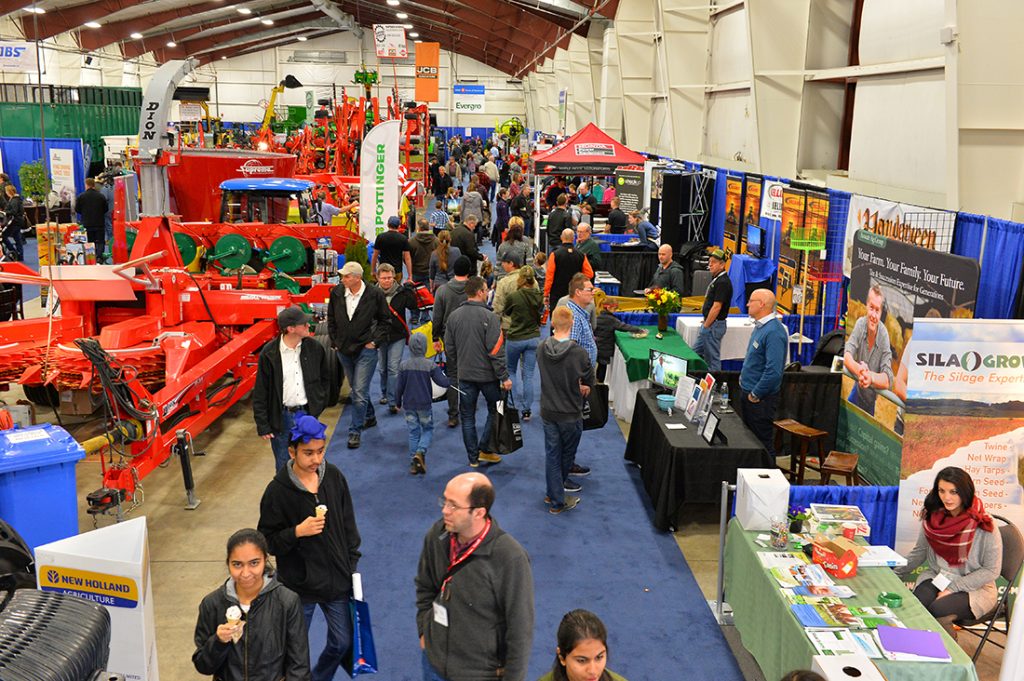 January 23, 2019
by DAVID SCHMIDT
The largest agricultural trade show in BC kicks off in Abbotsford this week for the 21st year.
The Pacific Agriculture Show runs at the Tradex in Abbotsford, January 24-26.
"The focus this year is on technology," says show coordinator Jim Shepard, who says there will be close to 300 exhibitors at this year's show.
These include "lots of new exhibitors" who will be plying their wares to several thousand attendees. Exhibits will be located both within and without the building. Smaller exhibits will fill the two exhibit halls and large equipment displays will be stationed outside.
Among the new components this year is CannaTech West, focused on the cultivation and production of cannabis. It will take place in a hangar adjacent to Tradex on Friday, January 25.
"This is the first year of the show since recreational cannabis use was legalized, so we are hosting our first-ever CannaTech as part of the show," says Shepard.
Prior to the show, the annual BC Agriculture Council gala will provide networking opportunities.
The gala will see presentation of the BCAC Leadership, Agriculture in the Classroom Teacher of the Year and Scotiabank Champion of Agriculture awards. The gala also features a silent auction, with proceeds to benefit the Agriculture in the Classroom Foundation.
Country Life in BC will be covering the gala and writers will be present at education sessions throughout the show. Be sure to stop by our booth and say "Hi!"
Current Issue:
June 2019
Vol. 105 Issue 6
STORIES IN THIS EDITION
First Cut
Hog farm won't face charges
Okanagan drives land values
Where's the beef?
Minister defends Bill 15 changes
Back Forty: Farmers, not just farmland, need revitalization
Editorial: No peace, no order
ALR restrictions make commuting a fact of life
Johnston's Packers targeted by activists
Child labour
Sidebar: When is a crime not a crime?
Berry growers get long-awaited funding boost
Proteobiotics reduce poultry, swine infections
Greenhouse growth stymied by gas prices
Bloom
Increase farm productivity with cover crops
Ag Briefs: Water fees not evenly distributed among users
Ag Briefs: BC Tree Fruits prepares to relocate
Farmland trust explored for Island
New owner, same faces
Fruitful experience
Fruit growers cautiously optimistic on bloom set
Honeycrisp key to success for Golden Apple winners
Changes to slaughter rules taking too long
Going! Going! Gone
Local meat deamnd creating opportunities
Sidebar: Compost in 14 days
Ranch takes pasture to plate at face value
Market Musings: Technology has its challenges
Oliver veggie grower prefers wholesale
Grocer offers tips to get a foot in the door
Greenhouse veggie days a hit with school
Haskap research may help berry go mainstream
Grow up!
Research: Bee sensitivity linked to neonic pesticides
Fraser Valley orchardist calling it a day
Rally cry
Worming his way to the top of the heap
Mushrooms a viable crop for small growers
Island 4-H beef show celebrates 25 years
Woodshed: Deborah starts her vacation a golf widow
Brewery's food program spawns farm project
Jude's Kitchen: Celebrate dads!
More