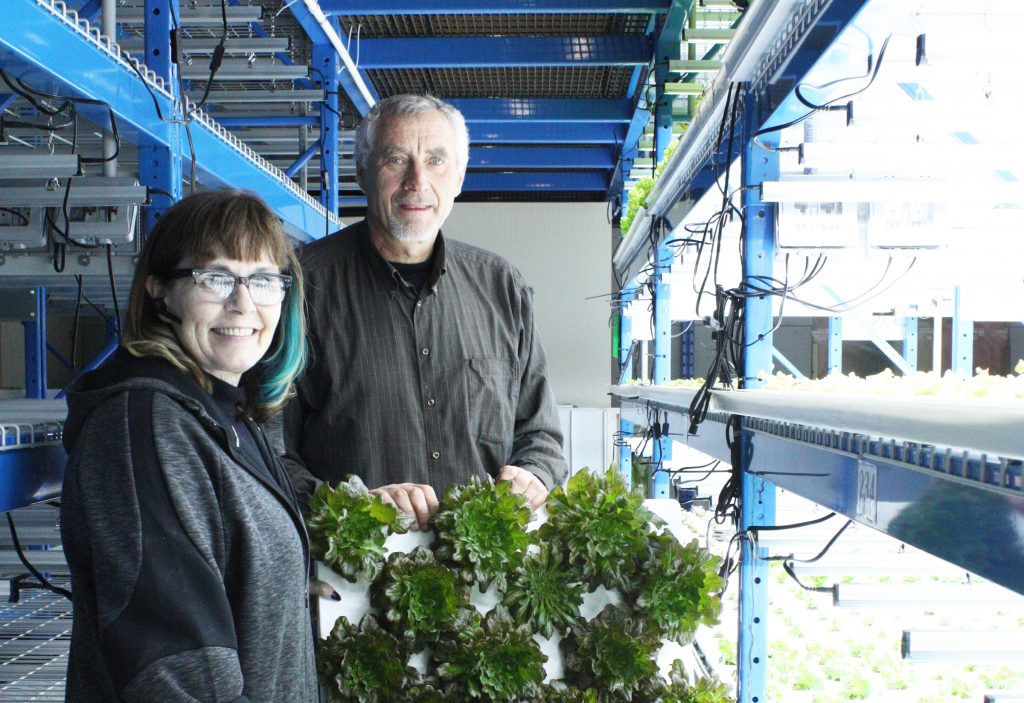 Salmon Arm hydroponic grower harvests sales in Calgary
by Jackie Pearase
SALMON ARM – A different kind of hydroponic grow-op has set up shop in the Shuswap, looking to meet the demand for leafy greens.
Living Leaf Growers started producing microgreens in a corner of Salmon Arm's Westgate Public Market late last year, planting its first crop in October and harvesting its third in early January.
The 2,500-square-foot space has four sections, each with seven rows of hydroponic growing rafts reaching to the ceiling. Owner Karen Dow expects to have 28,000 plugs of produce – arugula, cabbage, kale, pea shoots, basil, lettuces and more – growing when the facility is fully operational.
"We're hoping within two to three months we'll be at full capacity for harvesting upstairs and down," says Dow. "When the full system is going, we'll be harvesting 7,000 heads of produce a week."
In addition, PVC piping along one wall is ready to receive 700 ever-bearing strawberry plants set to arrive in March.
Growth has been steady. The first planting resulted in nearly 50 bags of microgreens, and the second crop yielded 80. Dow and a crew of three picked another 130 bags in January.
Dow is an accomplished businesswoman, but has no gardening experience. She hired Wolf Wesle from Green Croft Gardens in Grindrod to help with the initial set-up and deal with the inevitable snags along the way, like a leaky raft system.
"We have to go to a different raft system, which is really what we should have done from the beginning. That was a mistake but that's all part of it," she says. "So, yeah, we've had a lot of challenges in there, but they're fun."
Wesle combines formal training in hydroponics with more than three decades of hands-on organic experience in his consulting work for Dow.
He is now installing a more eco-friendly channel system to replace the styrofoam rafts for growing, and hemp plugs are replacing Rockwool for starting seedlings. The microgreens themselves are grown on fully biodegradable hemp matts.
Organic seeds, fertilizers and disease and pest management practices are used as much as possible. In fact, small plastic-covered jars containing apple cider vinegar is a simple and common pest control method.
Wesle says adding an organic fertilizer to the mix caused issues that required some trial and error to resolve but has resulted in better colour and texture.
Wesle's experience tells him there will be a few more issues to deal with before things are running smoothly.
"We currently operate at about 15% capacity but hope to have all kinks ironed out over the next six to 12 months," he says.
Wesle has agreed to stay on until his farm's growing season starts in April, and he'll likely continue as a part-time consultant as required.
Dow sold her initial crops at $1 per bag to people registered through Westgate's website. Customers provided valuable feedback.
Trials are also helping determine the best crops to grow for the bags of microgreens and mixed lettuce she's selling.
Dow says she will have no problem selling the produce, with interest already coming from food delivery services in Kelowna, Vernon, Kamloops and even Calgary.
"They like the produce because it's year-round, it's organic, it's fresh; we cut it, you get it," she notes.
Dow is mulling other options for commercial sales locally but is leaning toward keeping it unique to the Salmon Arm market.
"Right now I'm on the fence about whether I sell to Askew's and DeMille's and everybody," she says mentioning a popular local grocer and farm market.
The hydroponic produce is grown with few inputs but doesn't qualify for organic certification, which is limited to soil-based production systems. Dow would like to see organic certification criteria amended to accommodate hydroponics.
"I think you'll see in the next year or two a big change with how hydroponics is accepted," she says. "It's a battle coming down and we'd definitely jump on the train on that one."
Originally Published:
February 2019
Vol. 105 Issue 2
STORIES IN THIS EDITION
First Cut
Hog farm won't face charges
Okanagan drives land values
Where's the beef?
Minister defends Bill 15 changes
Back Forty: Farmers, not just farmland, need revitalization
Editorial: No peace, no order
ALR restrictions make commuting a fact of life
Johnston's Packers targeted by activists
Child labour
Sidebar: When is a crime not a crime?
Berry growers get long-awaited funding boost
Proteobiotics reduce poultry, swine infections
Greenhouse growth stymied by gas prices
Bloom
Increase farm productivity with cover crops
Ag Briefs: Water fees not evenly distributed among users
Ag Briefs: BC Tree Fruits prepares to relocate
Farmland trust explored for Island
New owner, same faces
Fruitful experience
Fruit growers cautiously optimistic on bloom set
Honeycrisp key to success for Golden Apple winners
Changes to slaughter rules taking too long
Going! Going! Gone
Local meat deamnd creating opportunities
Sidebar: Compost in 14 days
Ranch takes pasture to plate at face value
Market Musings: Technology has its challenges
Oliver veggie grower prefers wholesale
Grocer offers tips to get a foot in the door
Greenhouse veggie days a hit with school
Haskap research may help berry go mainstream
Grow up!
Research: Bee sensitivity linked to neonic pesticides
Fraser Valley orchardist calling it a day
Rally cry
Worming his way to the top of the heap
Mushrooms a viable crop for small growers
Island 4-H beef show celebrates 25 years
Woodshed: Deborah starts her vacation a golf widow
Brewery's food program spawns farm project
Jude's Kitchen: Celebrate dads!
More