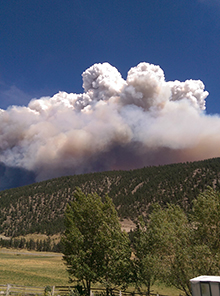 by Tamara Leigh
CLINTON – A group of producers is seeking compensation and an apology for damages caused when the BC Wildfire Service lost control of a prescribed burn on Hart Ridge Mountain, south of Clinton. The blaze quickly escalated and jumped Highway 97, threatening nearby ranches and homes and triggering evacuations and highway closures.
Greg Nyman speaks on behalf of the Cariboo & Thompson-Nicola Ranchers and Rural Property Owners group. He was on Hart Ridge Mountain with his cows when the fire started. After hearing that the wildfire centre was planning controlled burns on August 1, he got a permit to enter his range lease to try to move his cattle to safety.
"I was liaising with an agrologist from 100 Mile, and they gave me a four-hour window. I went up at about 8 and was supposed to be off the mountain at noon," he says.
The prescribed burns were started while he was on the mountain, cutting off his planned exit and putting him and over 100 head of cattle in harm's way. Nyman got off the mountain safely but had to leave his cattle behind. In the end, the fire completely burned his 7,000-hectare range unit.
"I haven't found 30 head and I don't know where they are. I am pretty sure they are gone," says Nyman. "I don't know what my losses are until I get my cows home. I don't even know if our range unit will be viable or not. Might not have anywhere to turn out our cows, and then what? I'm not the only one."
Nyman's family has ranched south of Clinton since the 1960s. He took over in 1987 and has fought fires in the area off and on for close to 45 years. He is critical of the management approach they have taken.
"They've relied too much on backburns and too many of them have gone wrong," he says. "It's ineffective fire management. The way they use their resources and tools is not as effective as it used to be. Every year that the Liberals were in power, they cut funding, closed offices, cut staff. I don't think we're making progress; I think it's getting worse."
He's quick to say that this is not a criticism of the frontline firefighters; it's the management side that is ineffective.
"Communities need to be involved in fire management. There's a total disconnect between the wildfire service and the communities, and they ignore our concerns," says Nyman.
The group of ranchers and rural property owners started in the Clinton area and has expanded as they have been contacted by producers in other areas who are struggling with losses due to backburns.
"I spoke with a fellow out by Williams Lake who lost $1.5 million in timber that he was protecting on a backburn. There are so many stories like this," says Nyman. "… Houses can be insured and rebuilt, but you can't regrow a mature fir forest."
The group would like an apology from government officials for the way Hart Ridge controlled burns were handled and for a general lack of consultation with local residents. They are also calling for compensation for livestock which are lost due to wildfires, as well as rural structures, woodlots, private timber, fields, grazing and fencing.
BC Wildfire Service says producers may qualify for compensation. According to a spokesperson, under the Wildfire Act, "people can be compensated for damage on private land for avoidable damage caused by fire control by government."
Originally Published:
September 2017
Vol. 103 Issue 9
STORIES IN THIS EDITION
First Cut
Hog farm won't face charges
Okanagan drives land values
Where's the beef?
Minister defends Bill 15 changes
Back Forty: Farmers, not just farmland, need revitalization
Editorial: No peace, no order
ALR restrictions make commuting a fact of life
Johnston's Packers targeted by activists
Child labour
Sidebar: When is a crime not a crime?
Berry growers get long-awaited funding boost
Proteobiotics reduce poultry, swine infections
Greenhouse growth stymied by gas prices
Bloom
Increase farm productivity with cover crops
Ag Briefs: Water fees not evenly distributed among users
Ag Briefs: BC Tree Fruits prepares to relocate
Farmland trust explored for Island
New owner, same faces
Fruitful experience
Fruit growers cautiously optimistic on bloom set
Honeycrisp key to success for Golden Apple winners
Changes to slaughter rules taking too long
Going! Going! Gone
Local meat deamnd creating opportunities
Sidebar: Compost in 14 days
Ranch takes pasture to plate at face value
Market Musings: Technology has its challenges
Oliver veggie grower prefers wholesale
Grocer offers tips to get a foot in the door
Greenhouse veggie days a hit with school
Haskap research may help berry go mainstream
Grow up!
Research: Bee sensitivity linked to neonic pesticides
Fraser Valley orchardist calling it a day
Rally cry
Worming his way to the top of the heap
Mushrooms a viable crop for small growers
Island 4-H beef show celebrates 25 years
Woodshed: Deborah starts her vacation a golf widow
Brewery's food program spawns farm project
Jude's Kitchen: Celebrate dads!
More