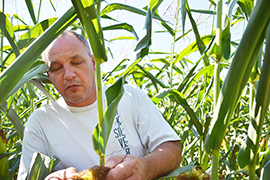 by Ronda Payne
ABBOTSFORD – BC farmers have been spared from the damaging effects of corn rootworm. That is, until last year, when the beetles were first discovered in sweet corn in the Fraser Valley.
BC Ministry of Agriculture entomologist Tracey Hueppelsheuser says damage from the pest can be substantial. Both the larvae and adult beetles cause damage.
"They call it the billion- dollar bug in the Midwest, so it's significant," she says.
Damage has been seen primarily in the central Fraser Valley on both sides of the river but Hueppelsheuser and others continue to be watchful throughout the province.
"[The beetles] have mandibles and they actually like pollen so they do seek out flowers and pollinating plant parts. They like silks of corn and they can actually prevent the cob fill in corn as a result of their feeding," she notes.
"The other thing the beetles do is feed on the leaf tissues and they eat the top surface of the leaves, so all the green tissue, and then they just leave the outer bottom layer of the corn leaf," she says. "The leaves start to look bleached and white."
Dairy farmer Sid Stoker of Fraser Edge Farms in Deroche has the beetle in his forage corn but, fortunately, not in massive quantities.
"The guy who does my custom planting … he said, 'we're just checking the field to see who has it and who doesn't,'" Stoker says. "All we had was the beetles. Didn't see worms; it's past that stage."
He does have some of the bleaching in his field.
Hueppelsheuser notes beetles were first spotted in fields this summer on July 24. The pests' appearance ramped up quickly after that. Some growers were able to spray but she feels late planting put the corn at greater risk.
"The first sprays went on in early August and would have been just one application in a few select fields," she says. "Some corn would have been too tall to get the sprayer in."
Hueppelsheuser says Sevin (carbaryl) is approved for corn rootworm.
"More significant damage is from the larvae, which occurs in June and July," she says. "So we're seeing the beetles now and it's really obvious … but the larvae damage is now going to be something significant."
Eggs of the beetle overwinter, then as they hatch in early to mid-June, they feed on corn roots, destroying the brace roots. This causes corn to tip, possibly grow upright after tipping, or look like it has been hit by drought. Fields have looked patchy, Hueppelsheuser says, depending upon where the greatest quantities of the pest are.
"Some growers are just trying to keep their corn watered and as vigorous as possible even though they know their roots have been compromised," she says. "I think people are probably going to have to consider cutting their fields a bit earlier."
The task will be to prevent potentially increased damage next season. The primary method of control is crop rotation.
"Corn is the primary host, though there can be some survival on some grass species … this beetle just really needs corn to survive," Hueppelsheuser says.
"An excellent way to manage the corn rootworm is to not give them corn back in that field next year … The really weak link in this insect is that it's really reliant on corn. Rotation is the number one and best tool for control of corn rootworm."
If rotation is planned, a crop needs to be found to ensure tonnage for cows without corn. If rotation is impossible, traited corn is another option.
"The corn hybrids that they choose to grow [in the midwest] are ones that have the Bt genetics, so they make the corn toxic to the larvae," she says. "I've talked to the corn seed dealers and they have pulled a little bit of the seed to growers who experienced challenges with corn rootworm last year and I've seen some of those fields and they look great. They're clearly resistant to the beetles."
She feels growers who experienced corn rootworm need to consider the hybrid varieties of corn seed.
"We probably will [rotate] for that reason," Stoker says. "We'll be looking into [traited corn] – at least there's that option."
Originally Published:
September 2017
Vol. 103 Issue 9
STORIES IN THIS EDITION
First Cut
Hog farm won't face charges
Okanagan drives land values
Where's the beef?
Minister defends Bill 15 changes
Back Forty: Farmers, not just farmland, need revitalization
Editorial: No peace, no order
ALR restrictions make commuting a fact of life
Johnston's Packers targeted by activists
Child labour
Sidebar: When is a crime not a crime?
Berry growers get long-awaited funding boost
Proteobiotics reduce poultry, swine infections
Greenhouse growth stymied by gas prices
Bloom
Increase farm productivity with cover crops
Ag Briefs: Water fees not evenly distributed among users
Ag Briefs: BC Tree Fruits prepares to relocate
Farmland trust explored for Island
New owner, same faces
Fruitful experience
Fruit growers cautiously optimistic on bloom set
Honeycrisp key to success for Golden Apple winners
Changes to slaughter rules taking too long
Going! Going! Gone
Local meat deamnd creating opportunities
Sidebar: Compost in 14 days
Ranch takes pasture to plate at face value
Market Musings: Technology has its challenges
Oliver veggie grower prefers wholesale
Grocer offers tips to get a foot in the door
Greenhouse veggie days a hit with school
Haskap research may help berry go mainstream
Grow up!
Research: Bee sensitivity linked to neonic pesticides
Fraser Valley orchardist calling it a day
Rally cry
Worming his way to the top of the heap
Mushrooms a viable crop for small growers
Island 4-H beef show celebrates 25 years
Woodshed: Deborah starts her vacation a golf widow
Brewery's food program spawns farm project
Jude's Kitchen: Celebrate dads!
More