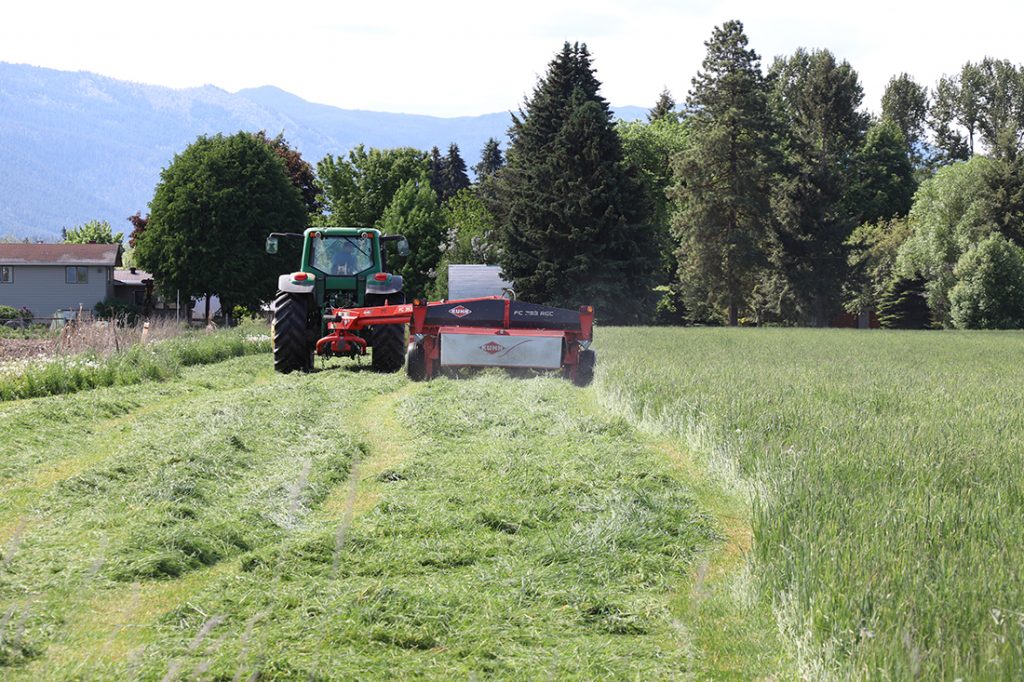 June 5, 2019
by PETER MITHAM
Opposition MLAs were unable to secure amendments to Bill 15, which passed third reading on May 30 after the BC NDP closed off debate in advance of the legislature's summer recess.
While the opposition felt there were enough issues with the bill to delay passage until this fall, the government had enough members to pass the bill without having to listen to its critics.
The result is amendments to the Agricultural Land Commission Act that remove the right of landowners to apply for exclusions of any portion of their properties that lies within the Agricultural Land Reserve. All applications must go through a local or First Nations government, or be initiated by the province, which has no obligation to consult an affected landowner.
The bill also eliminates the system of regional panels in favour of a single panel of commissioners that will meet regularly in Burnaby.
Perhaps most irksome point to opposition MLAs in the final days of the debate was the discovery that legislation to implement the recommendations of the committee charged with suggesting ways to revitalize the ALC and ALR was in the works prior to it receiving the committee's interim and final reports.
A similar approach played out last summer, when an order-in-council was signed in July limiting where cannabis could be grown in the ALR. The report recommending the measure was made public three weeks later. The agriculture ministry has since said it plans no further action on the reports.
Similarly, recommendations to strengthen the BC meat processing sector are being cited in support of various initiatives the province is undertaking in support of slaughterhouses and processors. All the initiatives have been undertaken prior to the release of the reports, however.
The approach suggests the province is trying hard to be seen as staying ahead of the curve, but it has also drawn criticism from those who feel it has pre-empted due process.
Tagged in:
Current Issue:
June 2019
Vol. 105 Issue 6
STORIES IN THIS EDITION
First Cut
Hog farm won't face charges
Okanagan drives land values
Where's the beef?
Minister defends Bill 15 changes
Back Forty: Farmers, not just farmland, need revitalization
Editorial: No peace, no order
ALR restrictions make commuting a fact of life
Johnston's Packers targeted by activists
Child labour
Sidebar: When is a crime not a crime?
Berry growers get long-awaited funding boost
Proteobiotics reduce poultry, swine infections
Greenhouse growth stymied by gas prices
Bloom
Increase farm productivity with cover crops
Ag Briefs: Water fees not evenly distributed among users
Ag Briefs: BC Tree Fruits prepares to relocate
Farmland trust explored for Island
New owner, same faces
Fruitful experience
Fruit growers cautiously optimistic on bloom set
Honeycrisp key to success for Golden Apple winners
Changes to slaughter rules taking too long
Going! Going! Gone
Local meat deamnd creating opportunities
Sidebar: Compost in 14 days
Ranch takes pasture to plate at face value
Market Musings: Technology has its challenges
Oliver veggie grower prefers wholesale
Grocer offers tips to get a foot in the door
Greenhouse veggie days a hit with school
Haskap research may help berry go mainstream
Grow up!
Research: Bee sensitivity linked to neonic pesticides
Fraser Valley orchardist calling it a day
Rally cry
Worming his way to the top of the heap
Mushrooms a viable crop for small growers
Island 4-H beef show celebrates 25 years
Woodshed: Deborah starts her vacation a golf widow
Brewery's food program spawns farm project
Jude's Kitchen: Celebrate dads!
More