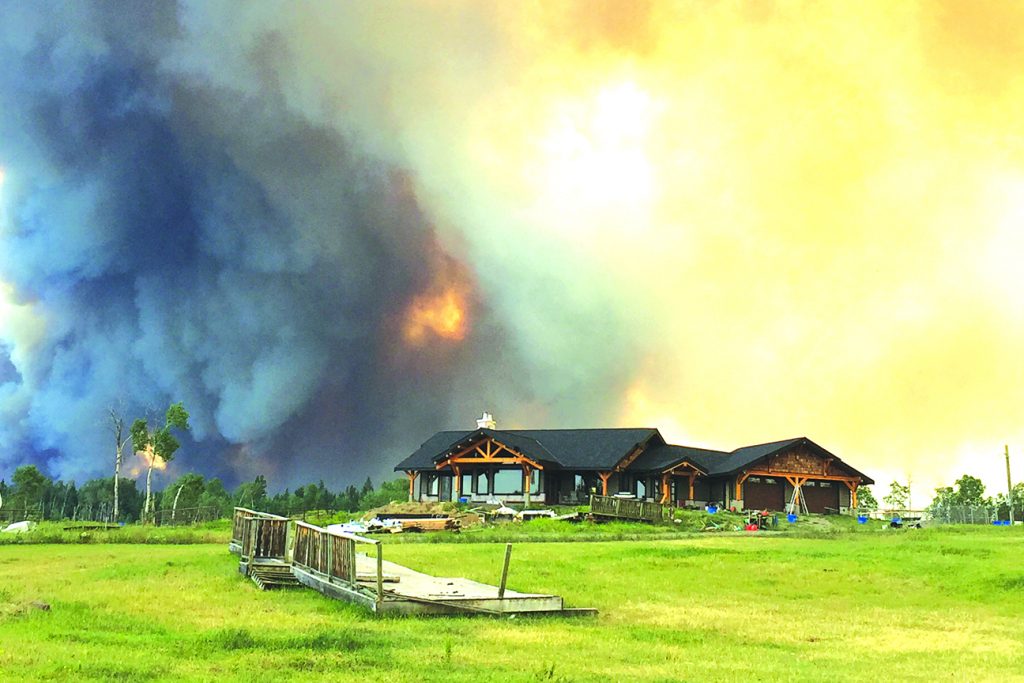 April 10, 2019
by PETER MITHAM
An early start to the wildfire season and low snowpack led to fire restrictions in the Cariboo this week, as the province tries to prevent a third straight year of record wildfires.
"Category 3 open fires will be prohibited throughout the Cariboo Fire Centre," the province announced April 9. The ban takes effect at noon on April 15 and runs through September 27.
Category 3 fires include grass fires greater than a half-acre and the burning of windrows as well as other large blazes. Campfires whose height and width don't exceed a half-metre are permitted.
The restrictions follow the discovery of several fires in the closing days of March and early April. The largest, at 170 acres, is in the Squamish Valley, while this week has brought blazes in Kleena Kleene, Juniper Beach and Chetwynd. Yesterday, spot fires were reported on Vancouver Island and in the Peace.
The province boosted spending on wildfire management to $101 million last month, and has also been engaged in outreach across the province with a view to making communities FireSmart. But much depends on weather conditions – moisture levels, the amount of dry vegetation and debris, and storm systems that can spark fires.
The province's latest water supply bulletin reports a snowpack below normal in many basins, especially those serving growers in the Stikine and Northwest as well as most southern parts of the province. An exceptionally dry March may mean low risk of flooding but a greater risk of dry conditions this summer.
"The snowmelt component of seasonal runoff for Vancouver Island, South Coast, and Lower Fraser is below normal and may lead to low flow issues in the summer," the province reports.
Growers in the Fraser Valley, for example, told Country Life in BC this week that the Fraser River was the lowest they've seen in years. The same could said for local canals, suggesting implementation of water restrictions could come into play earlier this year than last.
[CHERYL MONICAL FILE PHOTO]
Related Articles:
Scale of wildfires underscores need for clear communication
VICTORIA – Workshops aimed at fireproofing BC farms and ranches seem to be working despite record-breaking fire seasons this year […]
Current Issue:
June 2019
Vol. 105 Issue 6
STORIES IN THIS EDITION
First Cut
Hog farm won't face charges
Okanagan drives land values
Where's the beef?
Minister defends Bill 15 changes
Back Forty: Farmers, not just farmland, need revitalization
Editorial: No peace, no order
ALR restrictions make commuting a fact of life
Johnston's Packers targeted by activists
Child labour
Sidebar: When is a crime not a crime?
Berry growers get long-awaited funding boost
Proteobiotics reduce poultry, swine infections
Greenhouse growth stymied by gas prices
Bloom
Increase farm productivity with cover crops
Ag Briefs: Water fees not evenly distributed among users
Ag Briefs: BC Tree Fruits prepares to relocate
Farmland trust explored for Island
New owner, same faces
Fruitful experience
Fruit growers cautiously optimistic on bloom set
Honeycrisp key to success for Golden Apple winners
Changes to slaughter rules taking too long
Going! Going! Gone
Local meat deamnd creating opportunities
Sidebar: Compost in 14 days
Ranch takes pasture to plate at face value
Market Musings: Technology has its challenges
Oliver veggie grower prefers wholesale
Grocer offers tips to get a foot in the door
Greenhouse veggie days a hit with school
Haskap research may help berry go mainstream
Grow up!
Research: Bee sensitivity linked to neonic pesticides
Fraser Valley orchardist calling it a day
Rally cry
Worming his way to the top of the heap
Mushrooms a viable crop for small growers
Island 4-H beef show celebrates 25 years
Woodshed: Deborah starts her vacation a golf widow
Brewery's food program spawns farm project
Jude's Kitchen: Celebrate dads!
More