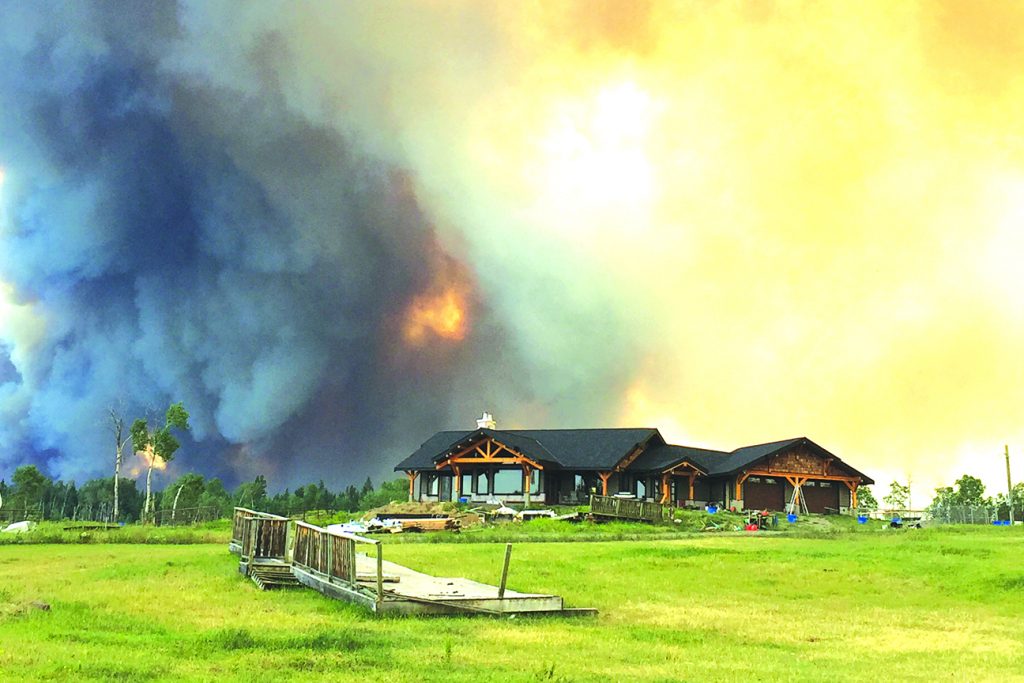 April 10, 2019
by PETER MITHAM
An early start to the wildfire season and low snowpack led to fire restrictions in the Cariboo this week, as the province tries to prevent a third straight year of record wildfires.
"Category 3 open fires will be prohibited throughout the Cariboo Fire Centre," the province announced April 9. The ban takes effect at noon on April 15 and runs through September 27.
Category 3 fires include grass fires greater than a half-acre and the burning of windrows as well as other large blazes. Campfires whose height and width don't exceed a half-metre are permitted.
The restrictions follow the discovery of several fires in the closing days of March and early April. The largest, at 170 acres, is in the Squamish Valley, while this week has brought blazes in Kleena Kleene, Juniper Beach and Chetwynd. Yesterday, spot fires were reported on Vancouver Island and in the Peace.
The province boosted spending on wildfire management to $101 million last month, and has also been engaged in outreach across the province with a view to making communities FireSmart. But much depends on weather conditions – moisture levels, the amount of dry vegetation and debris, and storm systems that can spark fires.
The province's latest water supply bulletin reports a snowpack below normal in many basins, especially those serving growers in the Stikine and Northwest as well as most southern parts of the province. An exceptionally dry March may mean low risk of flooding but a greater risk of dry conditions this summer.
"The snowmelt component of seasonal runoff for Vancouver Island, South Coast, and Lower Fraser is below normal and may lead to low flow issues in the summer," the province reports.
Growers in the Fraser Valley, for example, told Country Life in BC this week that the Fraser River was the lowest they've seen in years. The same could said for local canals, suggesting implementation of water restrictions could come into play earlier this year than last.
[CHERYL MONICAL FILE PHOTO]
Related Articles:
Scale of wildfires underscores need for clear communication
VICTORIA – Workshops aimed at fireproofing BC farms and ranches seem to be working despite record-breaking fire seasons this year […]
Current Issue:
April 2019
Vol. 105 Issue 4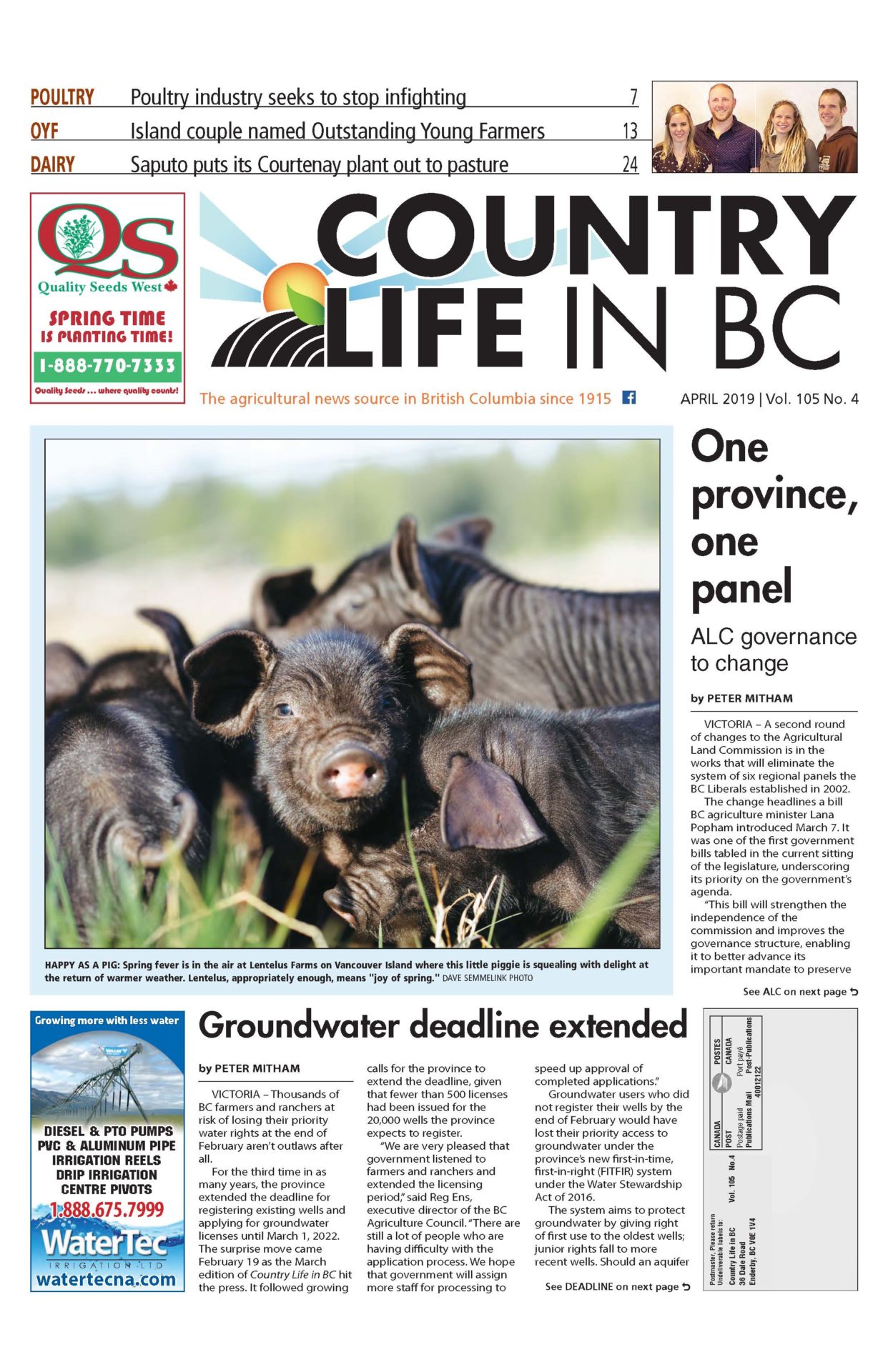 STORIES IN THIS EDITION
One province, one panel
Groundwater deadline extended
Happy as a pig!
Sidebar: Still waiting
Feds pour millions into tree fruit research
Sidebar: Will local procurement help?>
Editorial: Confined spaces
Back Forty: BC farmers need more than a land bank
Island Good campaign drives local sales
Poultry industry seeks to stop infighting
Good egg!
Egg farmers to receive biggest quota boost ever
New entrant focus
Decision day looms for chicken pricing appeal
Producers look to CanadaGAP for certification
Organic sector undertakes core review
Hopping to it!
Island couple named Outstanding Young Farmers
Turkey consumption continues to decline
BC potato growers enjoy a strong footing
Sudden tree fruit dieback a growing concern
Late season BC cherries in global demand
Farmers' markets aim to be local food hubs
Field trial hopes to reduce phosphorus levels
Future looking bright for BC dairy producers
BC could benefit from US trade battles
Saputo puts its Courtenay plant out to pasture
The land of milk and salmon
Sidebar: Farming for the future
Out of the hands of BC farmers
Codes of practice need producer input
Preparation essential for wildfire response
Sidebar: Relief announced for drought, fire
Sidebar: Be FireSmart with these tips
New traceability regs to track movement
Agriculture a notable threat to species at risk
Improper pesticide use threatens access
Threat to neonics spurs scare in spud growers
Orchard presses forward with diversification
Climate-smart growing
Staying on top of soil health is key to sound farming
No small potatoes
Farm families need to have affairs in order
Rotary parlours go upscale at two FV dairies
Study compares organic, conventional diets
Advisory service foresees growing demand
Sidebar: Tree fruit cutbacks a concern
Island dairy producers hone first aid skills
Woodshed: And that's how rumours get their teeth
Research farm showcases small projects
Jude's Kitchen: Shooting stars of spring
More