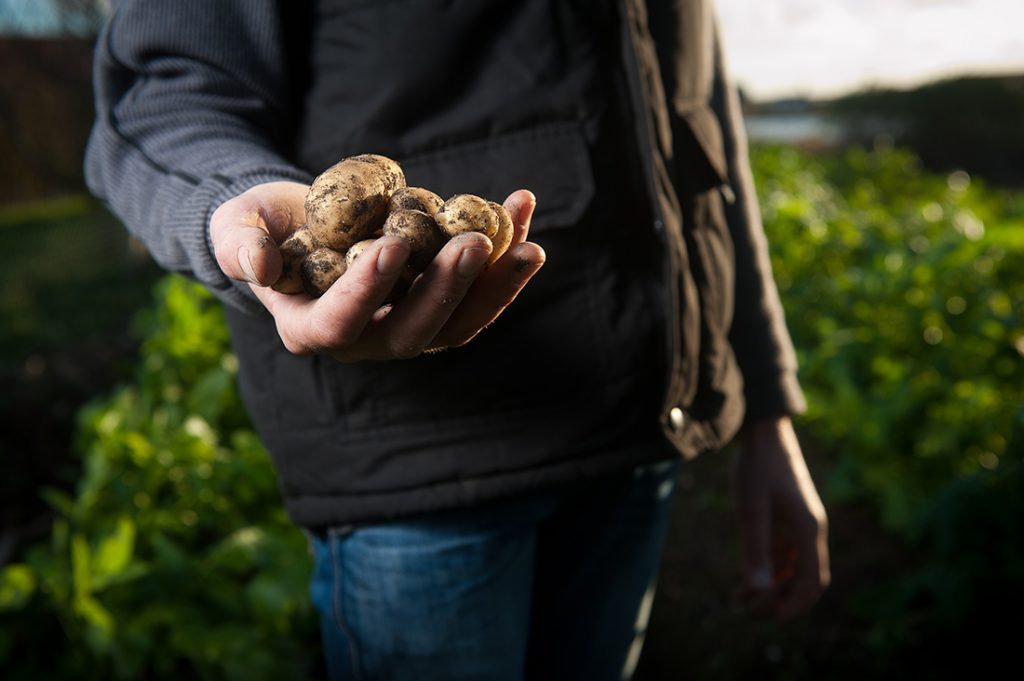 April 10, 2019
by PETER MITHAM
Young Agrarians is now an independent charity after seven years as an initiative of FarmFolk/CityFolk.
The group joined with Agrarians Foundation on April 1. The foundation is a federally registered charity the Small-Scale Food Processors Association launched in 2014 but never fully activated due to a lack of capacity.
"The association provides services direct to people that are value-adding and they wanted to create something that would support primary producers," says Sara Dent, executive director of Young Agrarians. "This was a perfect alignment. … Young Agrarians had grown and grown and grown and we were at the point where we needed our own dedicated board and administrative infrastructure from an operating perspective."
Agrarians Foundation's four directors – chair Bill Code, Nancy Ross, Kenneth Gallie and Kathleen Buote – will remain but new directors that reflect Young Agrarians' priorities will be added.
Young Agrarians' activities won't be affected by the change but the foundation should enable it to secure funding. The charity reported $1,200 in income to the Canada Revenue Agency in 2017 (its most recent report). This year, it will have $500,000 worth of funding for programming.
A key program of Young Agrarians is a widely acclaimed land-matching program, which received one-year funding from the province last September of $300,000 as well as $25,000 in federal-provincial funding in January 2018. Additional funding partners include Metro Vancouver, Cowichan Valley Regional District, Columbia Basin Trust and Vancity.
Dent expects additional government funding to follow and hopes Young Agrarians' new status will help attract funding for nationwide initiatives from new partners.
Young Agrarians operates through Organic Alberta in that province. Ontario members have hosted networking events in that province, and there has also been interest in Atlantic Canada. The cash to undertake events on a more consistent basis has been in short supply.
Dent hopes the foundation will allow it to tap into fresh sources of funding to give it a greater presence.
"We will be able to leverage Agrarians Foundation for national funding," says Dent. "We do need to … build our capacity in that direction in order to do a proper national roll-out of programs."
Tagged in:
Related Articles:
Short-season production comes with long days
100 MILE HOUSE – At 8 pm, Robin Hunt and her husband of almost two years, Johan Bos, are finishing […]
Hands-on experience critical for non-farmers to learn the ropes
KELOWNA – Lightfoot Farm owner Simon Answerth is the sole graduate of a three-year farm incubator program spearheaded by the […]
Current Issue:
April 2019
Vol. 105 Issue 4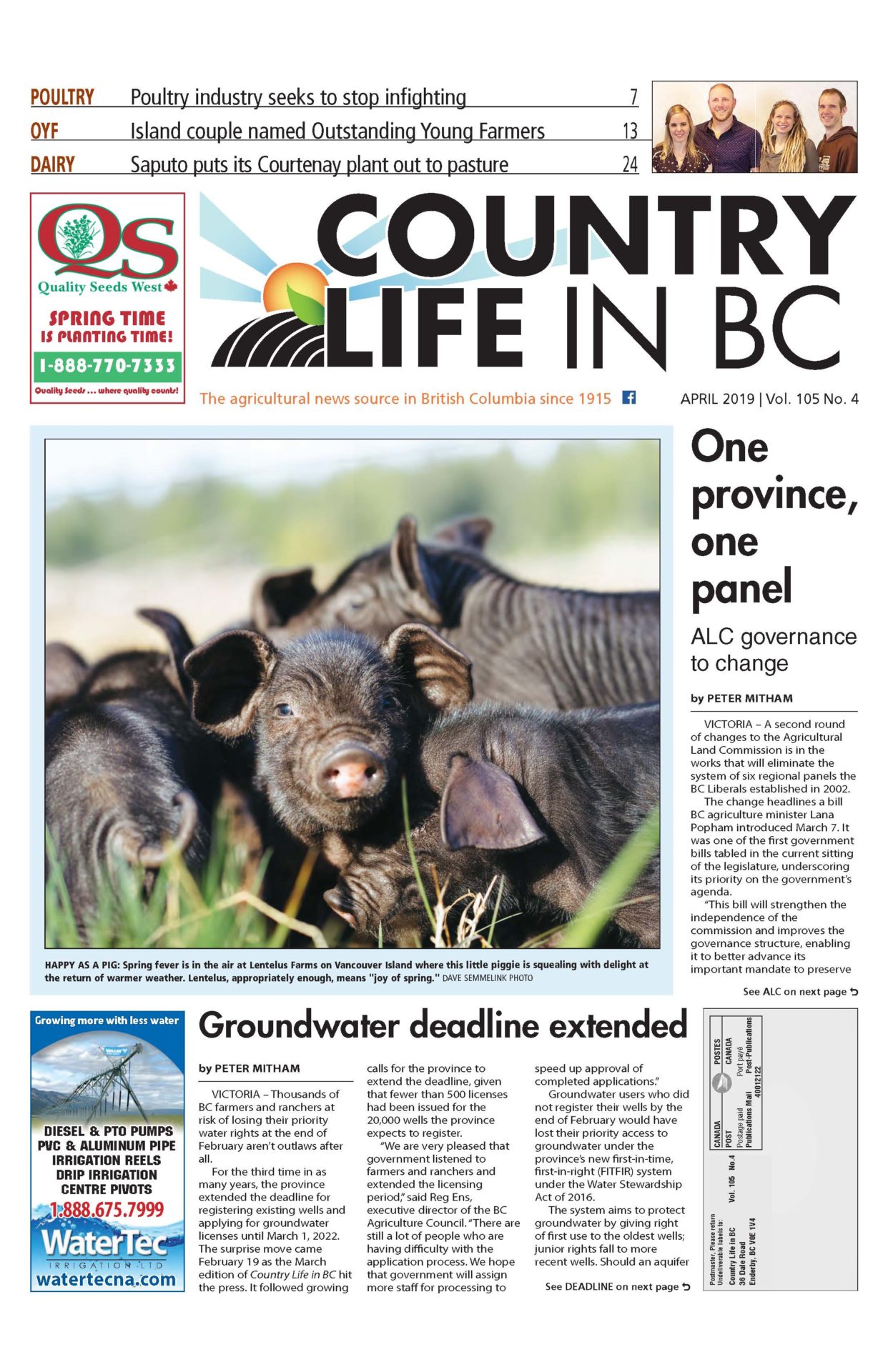 STORIES IN THIS EDITION
One province, one panel
Groundwater deadline extended
Happy as a pig!
Sidebar: Still waiting
Feds pour millions into tree fruit research
Sidebar: Will local procurement help?>
Editorial: Confined spaces
Back Forty: BC farmers need more than a land bank
Island Good campaign drives local sales
Poultry industry seeks to stop infighting
Good egg!
Egg farmers to receive biggest quota boost ever
New entrant focus
Decision day looms for chicken pricing appeal
Producers look to CanadaGAP for certification
Organic sector undertakes core review
Hopping to it!
Island couple named Outstanding Young Farmers
Turkey consumption continues to decline
BC potato growers enjoy a strong footing
Sudden tree fruit dieback a growing concern
Late season BC cherries in global demand
Farmers' markets aim to be local food hubs
Field trial hopes to reduce phosphorus levels
Future looking bright for BC dairy producers
BC could benefit from US trade battles
Saputo puts its Courtenay plant out to pasture
The land of milk and salmon
Sidebar: Farming for the future
Out of the hands of BC farmers
Codes of practice need producer input
Preparation essential for wildfire response
Sidebar: Relief announced for drought, fire
Sidebar: Be FireSmart with these tips
New traceability regs to track movement
Agriculture a notable threat to species at risk
Improper pesticide use threatens access
Threat to neonics spurs scare in spud growers
Orchard presses forward with diversification
Climate-smart growing
Staying on top of soil health is key to sound farming
No small potatoes
Farm families need to have affairs in order
Rotary parlours go upscale at two FV dairies
Study compares organic, conventional diets
Advisory service foresees growing demand
Sidebar: Tree fruit cutbacks a concern
Island dairy producers hone first aid skills
Woodshed: And that's how rumours get their teeth
Research farm showcases small projects
Jude's Kitchen: Shooting stars of spring
More