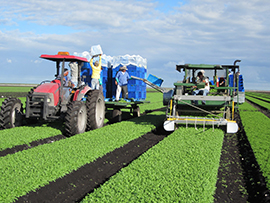 by Peter Mitham
Coldstream Ranch sells land to Quebec-based salad maker
VERNON – Coldstream Ranch, east of Vernon, has sold 700 acres to Canada's largest vegetable grower.
Quebec-based VegPro International Inc. bought the south-facing site to grow baby greens for its Fresh Attitude brand of salad packs. The deal also gives it land to build a 72,000-square-foot processing and distribution facility that will allow VegPro to serve customers across Western Canada.
"VegPro approached us because they thought it was the most suitable place in the province to grow their produce," says Keith Balcaen, owner of Coldstream Ranch.
Coldstream wasn't actively marketing parcels of its 9,000-acre property. VegPro approached the ranch after a month of scouting properties from Vancouver Island to the Cariboo.
"They couldn't find anything with a big enough acreage that's irrigated," says Balcaen.
With close to 6,000 acres on the East Coast in Quebec as well as Florida, VegPro has become a primary supplier of salads to Loblaws Companies Ltd. It also supplies Costco and Wal-Mart, all of which currently serve Western Canada with salad greens trucked in from California.
"Growing in Canada and being a local producer was always top of their mind, and to do that they had to find an area where they would be able to grow," says Jonathan Blais, a former senior relationship manager with Farm Credit Canada who joined VegPro at the end of October to oversee development of its Coldstream facility.
"The Okanagan seemed to be the best area, with a lot of heat and minimal rain and access to water, and Coldstream Ranch was a great location because we were able to secure enough land to size this operation to where we wanted it to be," says Blais.
Construction of the packing plant and distribution facility begins this month. Approximately 200 acres will be planted this spring, with plans to grow production to more than 600 acres within three years. Ultimately, the vision calls for organic certification of the acreage.
"They've tried to do it on the East Coast, but it's a bit challenging to do," says Blais. "They see the Okanagan as an area where they're going to be able to do organic production."
Production will occur between April and October. Rather than develop greenhouses for winter greens, produce for the packing plant will come from the US – either Washington or California. This echoes operations in Quebec, which touts an "East Coast Advantage" because greens aren't shipped in from across the continent.
"It makes more sense in terms of trucking because everything is about freshness," says Blais.
The project represents a $60 million investment by VegPro, a sum that covers the purchase price and development costs for the processing facility and farm.
Affordability
VegPro isn't the first operation to expand to the BC Interior. Farm Credit Canada's annual survey of farmland values points to lower land costs as a key factor drawing both existing and new entrants to central and northern BC.
Several dairy operations from the Lower Mainland have expanded to the North Okanagan, while ranchers such as Blue Goose Cattle Co. of Toronto and Langley's Central Park Farms have established herds in the Thompson-Okanagan.
Coldstream Ranch itself acquired approximately 2,000 acres last year, which means the deal with VegPro won't diminish its own holdings.
"We're really not shrinking at all," says Balcaen.
Coldstream will continue to run 2,400 cow-calf pairs across the 9,000 acres it owns as well as the million acres of Crown range it leases. It also operates a 5,000-head feedlot.
By selling to VegPro, however, the ranch brings more land into production without distracting from its own focus.
"I'm very set on making sure that while we're here, it doesn't get all chopped up," Balcaen says. "I'd like to keep it in ag, and into specialty [production] like this is awesome."
Previous deals saw tracts sold to orchardists Bill Sandher and David Geen but field vegetables represent diversification. Moreover, the processing plant will add up to 200 jobs and augment the local tax base.
"I thought it was a real asset – a good move for our local community," says Balcaen. "Anything we've done we've tried to be constructive and beneficial to our community."
Originally Published:
January 2018
Vol. 104 Issue 1
Peace will be flooded
Groundwater fee postponed
Sidebar: New year, new treaty
No quick fix for contaminated acquifer
Editorial: Watershed moment
Back 40: To better times ahead: hope is in our DNA
OpEd: BC agriculture needs its foreign workers
Dairy production meeting quota increases
Holstein Breeders celebrate progressive year
National unity a concern for dairy farmers
Producers waiting on FIRB review
Challenges, changes face young farmers
Outstanding effort
Steele steps down as fruit growers' president
Sidebar: BCFGA adopts new bylaws
BC to bear brunt of food price increases in 2018
Risk assessment research gets funding boost
New year, new start
Profitability should be to the goal of marketing
Sidebar: Seven deadly sins of (just about any) marketing
Abbotsford hosts AgRefresh open houses
Labour elusive for nursery sector
Ag show celebrates 20 years and growing
Hort course the backbone of show
Sidebar: Public trust workshops
Dairy, innovation expos part of show
Expo starts with tours of diverse dairy operations
Forestry, forage co-exist at demonstration site
Opportunities for Cariboo grass-fed beef
Sustainable success
Sidebar: First grad for ranching program
OYF winners show a willingness to innovate
Research: Space program elevates pot
research to new high
Food recovery benefits livestock farmers
Sidebar: Alternative connections
New objectives come with new WestGen barn
Surrey business group recognizes ag leaders
Greenhouse safety protocols save the day
Goat farmers get behind new dairy association
Sidebar: Dairy goat owners learn from one another
Scrapie eradication possible with certification program
National EFP program still a work in progress
Cutting-edge technology could hold key to varroa mites
Sidebar: What is RNAi?
Community gaming grants open February 1
Wannabe Farmer: Overcoming obstacles
Sweet smell of success on just eight acres
Sidebar: Strength in numbers
Sidebar: Award-winning shift in business
Woodshed Chronicles: Henderson figures any
idiot can drive a tractor
Jude's Kitchen: Pretty edible
More