Recommendation from Metro Vancouver one of five for revitalizing the ALR
by Peter Mitham
VANCOUVER – Metro Vancouver's submission to the nine-member advisory committee appointed to recommend ways to revitalize the Agricultural Land Commission and the lands it oversees has put the issue of farmhouse size at the top of its wish list.
The submission, presented to Metro Vancouver's regional planning committee by Theresa Duynstee, was set to go to Metro Vancouver's board for final approval April 27, three days before the review committee wrapped up its public consultation.
The submission urges the province to legislate "restrictions on the home plate including house size, residential footprint location and size in the ALR to discourage the use of agricultural land for residential and commercial purposes."
It adds that new provincial legislation could allow farm worker housing within the designated home plate.
This is the third time Metro Vancouver has made the request, noting that municipalities within the district face challenges in "restricting house size and residential footprint in the ALR."
The request effectively pleads helplessness on a matter that Premier John Horgan has said falls squarely within the jurisdiction of municipal zoning bylaws.
The difficulties municipalities face have played out most dramatically in recent years in Richmond, which moved to restrict farmhouse sizes within the ALR last year.
Council established an initial limit of 10,764 square feet last May, more than farmland advocates wanted but respecting the concerns in the farm community. Critics took advantage of a six-month review of the bylaw to press their case for a size in line with provincial guidelines, which recommend a house size of 5,382 square feet.
The review attracted 200 people to three open houses and garnered 525 written submissions. The process reflected a sharp split between farmers and non-farmers, with 93% of farmers opposing a reduction in house size and more than 60% of non-farmers supporting a reduction in line with the provincial recommendation.
Speaking to council on March 26, Ben Dhiman of the Richmond Farmland Owners Association expressed concern at further limits on farmhouse size. The problem isn't with home size but how the land is used, and he presented several examples of large homes surrounded by productive farms to underscore his point.
Laura Gillanders, a farmland advocate, told council that by not placing further limits on farmhouse size, it would continue to facilitate speculation. She pointed out that 16 applications for homes averaging 9,910 square feet had been received in the first three months of 2018.
However, contractor Eddie Tang, speaking on behalf of Chinese landowners, said many of the property owners he works with "have an emotional investment in the farming practices of the land." The owner of 9431 No. 6 Road, for example, spent more than $200,000 replanting blueberries on the property.
Richmond council ultimately directed staff to draft a new bylaw reflecting the smaller house size for first reading in April; the bylaw had not been presented at press time.
The issue of monster homes isn't restricted to Richmond.
Pitt Meadows has also faced challenges restricting the size of houses on protected farmland within its boundaries, and Chilliwack staff took several months to draft appropriate legislation before a bylaw passed last year.
Meanwhile, regional governments in the Peace have seen an increase in quarter-section estates that are home to mansions in the middle of farmland that sits fallow.
More recommendations
Restrictions on farmhouses isn't the only recommendation Metro Vancouver is making to the province.
It is also asking the province to reform the tax treatment of farm-class properties to penalize negative uses rather than just recognize land that's actively farmed.
"Tax reform that penalizes unwanted behaviours is a vastly underutilized tool for discouraging inappropriate land use in the ALR," the submission states, recommending that non-farm activities within the ALR trigger similar tax rates to the same activities located in urban areas.
The submission also recommends treating farms with less than $10,000 gross sales differently from larger ones, similar to what Quebec does. Metro Vancouver claims the change would accommodate both commercial and hobby farmers while taxing them in a manner that reflects their contribution to agricultural production.
The final two recommendations involve measures to enable "appropriate business development in the ALR that champions agriculture production over the long term," and covenants that recognize the important ecological services farmland provides.
Originally Published:
May 2018
Vol. 104 Issue 5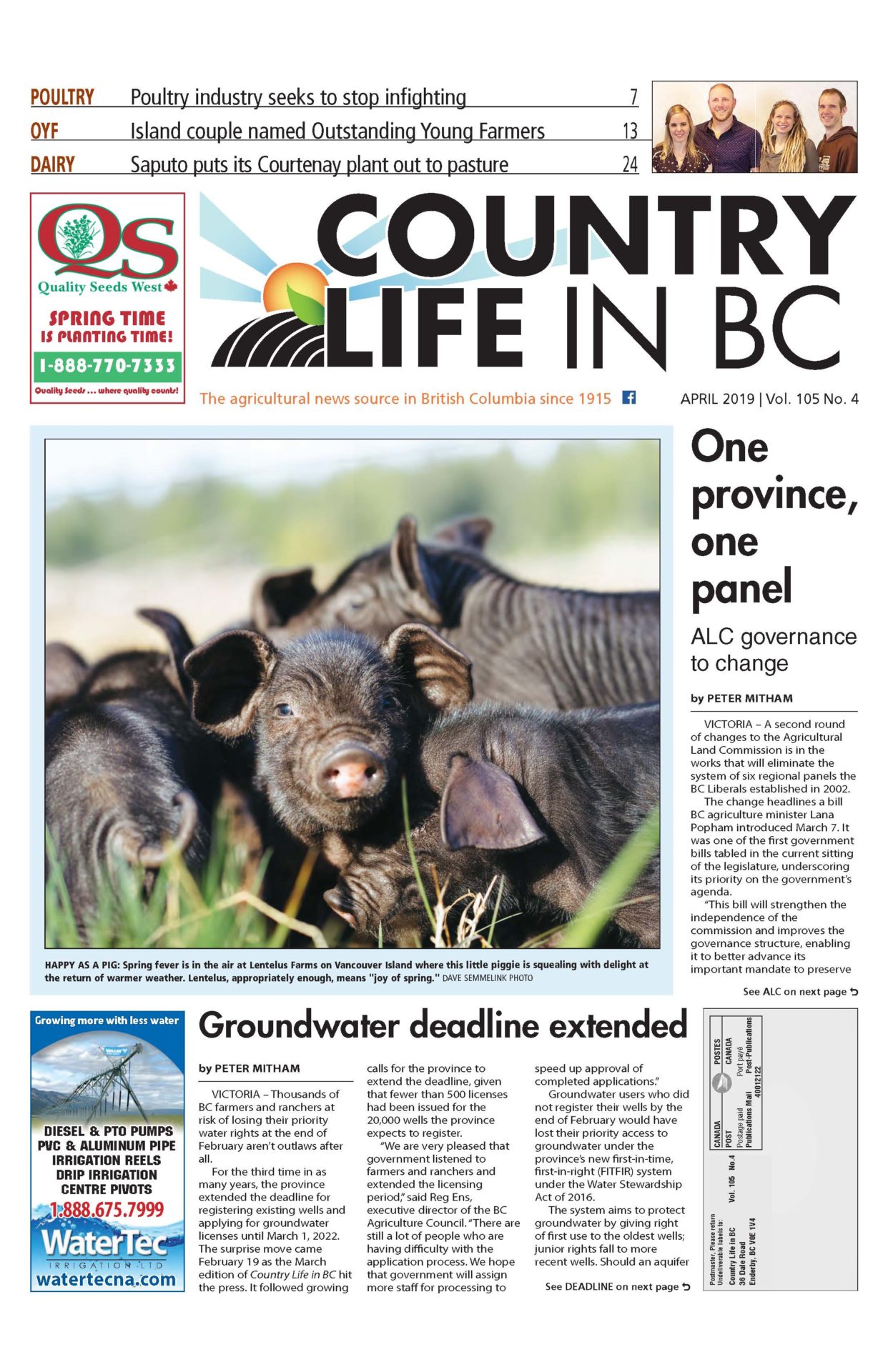 STORIES IN THIS EDITION
One province, one panel
Groundwater deadline extended
Happy as a pig!
Sidebar: Still waiting
Feds pour millions into tree fruit research
Sidebar: Will local procurement help?>
Editorial: Confined spaces
Back Forty: BC farmers need more than a land bank
Island Good campaign drives local sales
Poultry industry seeks to stop infighting
Good egg!
Egg farmers to receive biggest quota boost ever
New entrant focus
Decision day looms for chicken pricing appeal
Producers look to CanadaGAP for certification
Organic sector undertakes core review
Hopping to it!
Island couple named Outstanding Young Farmers
Turkey consumption continues to decline
BC potato growers enjoy a strong footing
Sudden tree fruit dieback a growing concern
Late season BC cherries in global demand
Farmers' markets aim to be local food hubs
Field trial hopes to reduce phosphorus levels
Future looking bright for BC dairy producers
BC could benefit from US trade battles
Saputo puts its Courtenay plant out to pasture
The land of milk and salmon
Sidebar: Farming for the future
Out of the hands of BC farmers
Codes of practice need producer input
Preparation essential for wildfire response
Sidebar: Relief announced for drought, fire
Sidebar: Be FireSmart with these tips
New traceability regs to track movement
Agriculture a notable threat to species at risk
Improper pesticide use threatens access
Threat to neonics spurs scare in spud growers
Orchard presses forward with diversification
Climate-smart growing
Staying on top of soil health is key to sound farming
No small potatoes
Farm families need to have affairs in order
Rotary parlours go upscale at two FV dairies
Study compares organic, conventional diets
Advisory service foresees growing demand
Sidebar: Tree fruit cutbacks a concern
Island dairy producers hone first aid skills
Woodshed: And that's how rumours get their teeth
Research farm showcases small projects
Jude's Kitchen: Shooting stars of spring
More