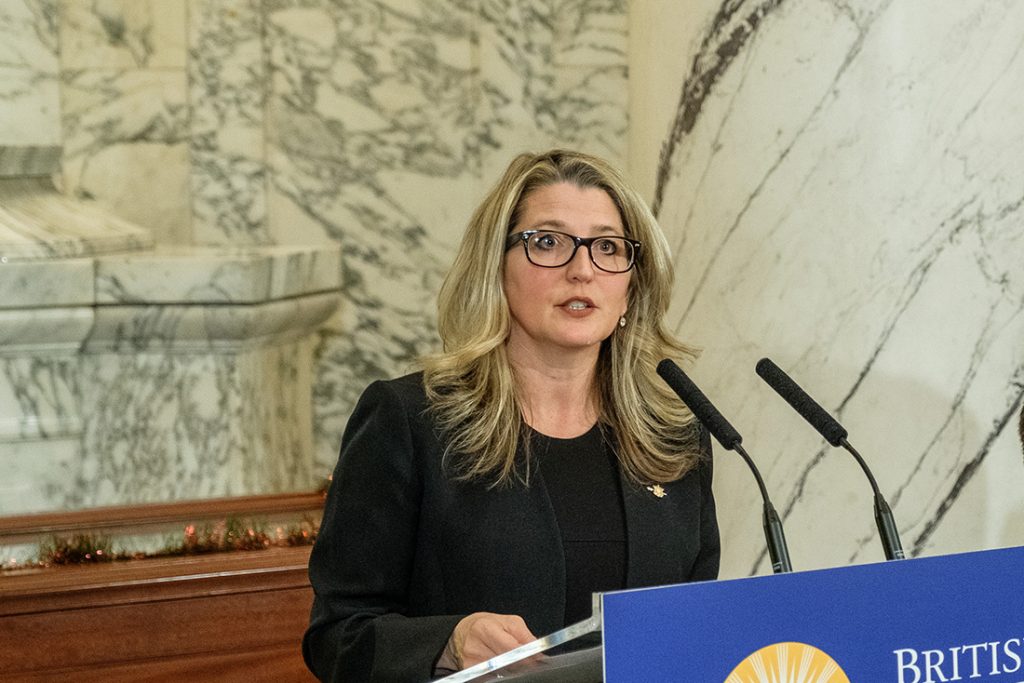 May 29, 2019
by PETER MITHAM
Bill 15 is facing tough questioning from opposition MLAs during committee hearings this week, raising the chances that third reading could be delayed until this fall.
The bill proposes several amendments to the Agricultural Land Commission, including consolidation of decision-making in a single provincial panel rather than the six regional panels that exist today. It also eliminates the right of landowners to apply to exclude properties from the Agricultural Land Reserve that the commission oversees.
While BC agriculture minister Lana Popham has charged Bill 15 critics with spreading misinformation, she admitted under questioning from Peace River South MLA Mike Bernier on May 28 that landowners are losing their rights as persons under the bill.
"The minister has heckled us, said that's not true, said they will be able to," Bernier said. "What the minister just said is she's doing housekeeping to remove 30.1, and 30.1 is the actual wording that allows a landowner to apply."
Questioning from Abbotsford West MLA Mike de Jong also extracted an admission from Popham that an "advanced early draft report" received on April 24, 2018 – three months before the interim report of the advisory committee appointed to recommend changes was made public – was the basis for the legislation. Moreover, the initial request for legislation was made June 15, 2018 – six weeks before publication of the interim report recommending such legislation.
The bill has been debated for approximately five hours this week, and more debate is expected, with Bernier suggesting it could continue after the summer recess.
"There are going to be a lot of questions to take on in this bill," he said.
The legislature adjourns on May 30. [BCMA PHOTO]
Current Issue:
June 2019
Vol. 105 Issue 6
STORIES IN THIS EDITION
First Cut
Hog farm won't face charges
Okanagan drives land values
Where's the beef?
Minister defends Bill 15 changes
Back Forty: Farmers, not just farmland, need revitalization
Editorial: No peace, no order
ALR restrictions make commuting a fact of life
Johnston's Packers targeted by activists
Child labour
Sidebar: When is a crime not a crime?
Berry growers get long-awaited funding boost
Proteobiotics reduce poultry, swine infections
Greenhouse growth stymied by gas prices
Bloom
Increase farm productivity with cover crops
Ag Briefs: Water fees not evenly distributed among users
Ag Briefs: BC Tree Fruits prepares to relocate
Farmland trust explored for Island
New owner, same faces
Fruitful experience
Fruit growers cautiously optimistic on bloom set
Honeycrisp key to success for Golden Apple winners
Changes to slaughter rules taking too long
Going! Going! Gone
Local meat deamnd creating opportunities
Sidebar: Compost in 14 days
Ranch takes pasture to plate at face value
Market Musings: Technology has its challenges
Oliver veggie grower prefers wholesale
Grocer offers tips to get a foot in the door
Greenhouse veggie days a hit with school
Haskap research may help berry go mainstream
Grow up!
Research: Bee sensitivity linked to neonic pesticides
Fraser Valley orchardist calling it a day
Rally cry
Worming his way to the top of the heap
Mushrooms a viable crop for small growers
Island 4-H beef show celebrates 25 years
Woodshed: Deborah starts her vacation a golf widow
Brewery's food program spawns farm project
Jude's Kitchen: Celebrate dads!
More