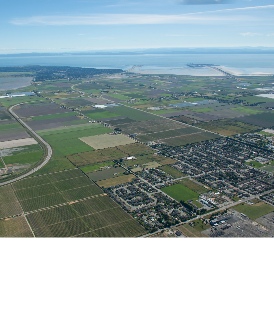 by Peter Mitham
VANCOUVER – Lower Mainland farmland could be sacrificed to ensure agri-food exports can move to market quickly and efficiently, federal agriculture minister Lawrence MacAulay told Country Life in BC.
"We do not want to lose agricultural land but it's no good producing products that you can't move, either," MacAulay said, answering a question from Country Life in BC following a presentation to Greater Vancouver Board of Trade members on September 12. "So it's one way or the other – the port in Vancouver has to be efficient to move the products to market. The Asian market is a big market, only going to get larger, and we want to be there."
MacAulay was in Vancouver as part of a tour of Western Canada that stretched from Saskatchewan grainfields to a craft brewery on Vancouver Island.
Opportunities to boost agri-food exports figured prominently in his West Coast itinerary, with an address to the Greater Vancouver Board of Trade and an endorsement of the new catalogue of export-ready agri-food products BC has published with funding from Growing Forward 2.
But the thrust of his remarks focused on Vancouver's port facilities and the launch pad those provide for Asia-bound products.
"We have to make sure that they can handle the products as fast as they possibly can and as efficiently as they possibly can," he said.
MacAulay's comments won't sit well with municipalities such as Richmond or local farmland advocates who have challenged the Port of Vancouver's plans to tap local farmland for port-related uses.
Yet the port, as a federal entity, holds the trump card: while it has pledged to file exclusion applications to remove protected farmland from the province's Agricultural Land Reserve, it's under no obligation to do so as an arm of the senior level of government.
"I don't think we would be bound [by the Agricultural Land Commission]," Robin Silvester, president and CEO of the port authority, said earlier this year. "We have supremacy."
Site Economics Ltd. prepared a report for the port authority in October 2015 that estimates port activities will require approximately 2,700 acres by 2030. The demand could cost Delta alone 1,500 acres of productive farmland, according to the Delta Farmers' Institute.
Silvester believe local agriculture is "almost meaningless" when it comes to local food security but that stance is at odds with MacAulay's message to the Greater Vancouver Board of Trade.
Responding to a question from the audience regarding organic production, MacAulay said his job is to ensure farmers in Canada are capturing local markets before venturing into exports.
"There are products that we aren't producing enough of, and I want to help you produce those products so that you receive the benefit," he told his audience, which included very few farmers. "My responsibility is to help you, and I want to do it."
Tagged in:
Originally Published:
October 2016
Vol. 102 Issue 10
STORIES IN THIS EDITION
First Cut
Hog farm won't face charges
Okanagan drives land values
Where's the beef?
Minister defends Bill 15 changes
Back Forty: Farmers, not just farmland, need revitalization
Editorial: No peace, no order
ALR restrictions make commuting a fact of life
Johnston's Packers targeted by activists
Child labour
Sidebar: When is a crime not a crime?
Berry growers get long-awaited funding boost
Proteobiotics reduce poultry, swine infections
Greenhouse growth stymied by gas prices
Bloom
Increase farm productivity with cover crops
Ag Briefs: Water fees not evenly distributed among users
Ag Briefs: BC Tree Fruits prepares to relocate
Farmland trust explored for Island
New owner, same faces
Fruitful experience
Fruit growers cautiously optimistic on bloom set
Honeycrisp key to success for Golden Apple winners
Changes to slaughter rules taking too long
Going! Going! Gone
Local meat deamnd creating opportunities
Sidebar: Compost in 14 days
Ranch takes pasture to plate at face value
Market Musings: Technology has its challenges
Oliver veggie grower prefers wholesale
Grocer offers tips to get a foot in the door
Greenhouse veggie days a hit with school
Haskap research may help berry go mainstream
Grow up!
Research: Bee sensitivity linked to neonic pesticides
Fraser Valley orchardist calling it a day
Rally cry
Worming his way to the top of the heap
Mushrooms a viable crop for small growers
Island 4-H beef show celebrates 25 years
Woodshed: Deborah starts her vacation a golf widow
Brewery's food program spawns farm project
Jude's Kitchen: Celebrate dads!
More