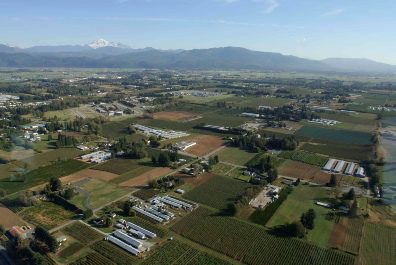 by Peter Mitham
Panel includes veterans, critics of farmland policies
VICTORIA – The province kicked off the new year with a bang, announcing a nine-member panel to review and recommend steps for the revitalization of the province's 45-year-old Agricultural Land Reserve.
Headed by Port Alberni water buffalo farmer Jennifer Dyson, who until last year sat on the Agricultural Land Commission's regional panel for Vancouver Island, the committee is charged with providing "strategic advice, policy guidance and recommendations on how to help revitalize the ALR and ALC to ensure the provincial goals of preserving agricultural land and encouraging farming and ranching in British Columbia continue to be a priority."
Committee members include Vicki Huntington, former independent MLA for South Delta; Byron Louis, chief of the Okanagan Indian Band; Lenore Newman, an associate professor at the University of the Fraser Valley; poultry farmer, real estate agent and Chilliwack city councillor Chris Kloot; Irmi Critcher, a Peace region grain farmer; Arzeena Hamir, president of the Mid Island Farmers Institute and a director of the Investment Agriculture Foundation of BC; former ALC planner Shaundehl Runka and retired ALC deputy CEO Brian Underhill.
"The ALR and the ALC are incredibly important to the health and economic well-being of our province's future, and making it easier and more efficient for the commission to fulfill its mandate of protecting farmland and encouraging farming is a commitment the BC government is delivering on," said BC agriculture minister Lana Popham in announcing the review.
The committee's first order of business is writing a consultation paper that will be the basis for a public engagement process in February and March. Dyson expects the consultation paper to be available by the end of January.
"We're not going to lay out a list of problems. We don't want to lead the consultation process to a conclusion," she explains. "The discussion paper will [say] this is the committee, this is what we'll be doing, this is what the commission is, does, and how it works; these issues and themes are a number of things that impact agriculture on a regular basis."
Responses to the report as well as comments received at community meetings will feed into the committee's recommendations. Meetings will be held in Abbotsford, Cranbrook, Fort St. John, Kelowna, Kamloops, Nanaimo and Prince George.
"We really want open-ended discussions," Dyson says. "Ultimately, it will be the wisdom of government to essentially make changes."
The province says "any legislative changes that support the revitalization of the commission and the reserve are targeted for late 2018 or early 2019."
Preliminary comments from those on both sides of the reserve – those seeking stronger protections and those who see it as an obstacle to development – were muted.
Bal Atwal, a principal in the Vancouver office of Avison Young, a commercial property brokerage, says the committee is in a tough spot. While most people want to protect land that's in production, the other half of the reserve – the acreage that's not being farmed – is what divides people.
"That will always cause speculation and uncertainty and broad views on the general idea of ALR land within all the various parties," he says. "Unfortunately, I don't believe this review will satisfy many at either end of the spectrum."
Exclusions difficult
Whatever form revitalization takes, recent months indicate that exclusions aren't becoming any easier.
"I've heard some indications in the last few months that it's even more difficult than it has been to get an ALR exclusion, particularly for residential development," says Mike Harrison, a land sales specialist with Front Line Real Estate Services Ltd. in Surrey.
Delta Council approved a land swap with MK Delta Lands Group that would have facilitated industrial development north of Burns Bog and added to protected area further south, for example. This would typically have facilitated approval by the land commission. However, the proposal is facing scrutiny by the commission's executive council. Other proposals face similar assessment.
Opposition MLAs, meanwhile, jumped on the fact that various sectors and regions have been left out.
While two committee members have farms in the Peace region, ranchers and fruit growers aren't represented on the committee.
"When I look at the committee members, I'm extremely concerned that there aren't more farmers on this list," said Delta South MLA Ian Paton in a statement. "Surely, the minister can find a few more British Columbians who have actually farmed for a living to provide valuable feedback."
Popham was unavailable to comment on the choice of committee members but Dyson said they were chosen to listen to everyone rather than represent specific sectors or regions.
"There is no end to the consultation we want with farmers and ranchers in all sectors," she says. "I'm not there to represent a commodity. And I'm not there to represent a region of the province. But I can tell you, I'm a cattle grower and I'm a dairy farmer, and we will definitely be seeking a consultation with the farming and ranching community."
Originally Published:
February 2018
Vol. 104 Issue 2
STORIES IN THIS EDITION
First Cut
Hog farm won't face charges
Okanagan drives land values
Where's the beef?
Minister defends Bill 15 changes
Back Forty: Farmers, not just farmland, need revitalization
Editorial: No peace, no order
ALR restrictions make commuting a fact of life
Johnston's Packers targeted by activists
Child labour
Sidebar: When is a crime not a crime?
Berry growers get long-awaited funding boost
Proteobiotics reduce poultry, swine infections
Greenhouse growth stymied by gas prices
Bloom
Increase farm productivity with cover crops
Ag Briefs: Water fees not evenly distributed among users
Ag Briefs: BC Tree Fruits prepares to relocate
Farmland trust explored for Island
New owner, same faces
Fruitful experience
Fruit growers cautiously optimistic on bloom set
Honeycrisp key to success for Golden Apple winners
Changes to slaughter rules taking too long
Going! Going! Gone
Local meat deamnd creating opportunities
Sidebar: Compost in 14 days
Ranch takes pasture to plate at face value
Market Musings: Technology has its challenges
Oliver veggie grower prefers wholesale
Grocer offers tips to get a foot in the door
Greenhouse veggie days a hit with school
Haskap research may help berry go mainstream
Grow up!
Research: Bee sensitivity linked to neonic pesticides
Fraser Valley orchardist calling it a day
Rally cry
Worming his way to the top of the heap
Mushrooms a viable crop for small growers
Island 4-H beef show celebrates 25 years
Woodshed: Deborah starts her vacation a golf widow
Brewery's food program spawns farm project
Jude's Kitchen: Celebrate dads!
More