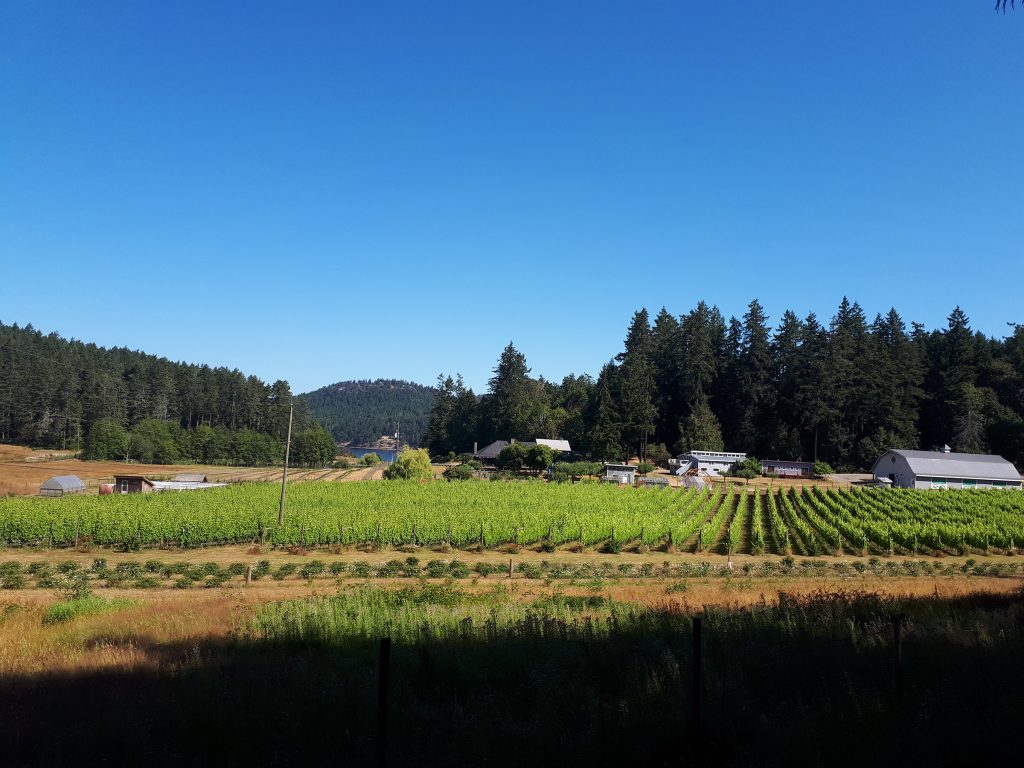 Local government committees often overstep ALC
by Barbara Johnstone Grimmer
PENDER ISLAND – Bylaws passed by local government shouldn't pre-empt decisions by the Agricultural Land Commission, the commission's chair and CEO told a recent meeting of the Islands Trust council.
While it may seem to be stating what's clearly written in section 46 of the Agricultural Land Commission Act, the question is at the heart of a storm brewing on several Gulf Islands.
Speaking during a public delegation session at the Islands Trust council meeting June 20, Pender Island resident Michael Sketch pointed out that Islands Trust and its local trust committees (LTCs) has regularly interpreted the ALC's conditional approval of applications as full legal approval.
"Despite the ALC Act and its precedence over LTC bylaws, Islands Trust bylaws have been drafted and adopted which are not consistent with the ALC Act, regulation or orders of the ALC," says Sketch. "Conditional approval for non-farm uses have been interpreted by Islands Trust staff as approval in law, whether or not the conditions of approval have been met."
Sketch recalled how former ALC chair Richard Bullock addressed the Islands Trust council on Salt Spring in 2012 regarding the issue.
"He showed passionate support for the ALR, intending to persuade Islands Trust decision-makers," says Sketch. "Less than two months later, North Pender LTC forwarded a non-farm use application to the ALC for a waste transfer facility on ALR land."
The parcel had changed hands months earlier, with old industrial zoning on ALR land already in place but with no ALC permission in law, according to Sketch. The zoning was intended only to provide road access across an ALR portion to a non-ALR oceanside fuel facility which had ceased operations decades ago.
"Six years later, all non-farm uses on that property, either applied for or incorrectly given by Islands Trust, have been refused by the ALC," says Sketch. "Islands Trust staff now recommend that the LTC continue allowing one of those refused uses, in part for reason of a legally incorrect historical precedent."
This situation is not unique to Pender. Nearly a third of the islands governed by the Islands Trust have seen trust staff recommend the reading of bylaws which, if adopted, would be inconsistent with ALC legislation or an order of the ALC.
Sketch is not alone in his assessment of the situation. Gabriola Island resident Jacinthe Eastwick has also spoken out about Islands Trust bylaw readings on North Pender, Gabriola, Salt Spring and Galiano that are inconsistent with the ALC Act, a regulation or order of the ALC.
Despite public protest leading to the eventual reversals of bylaws on three islands, Galiano adopted official community plan (OCP) amendments in 2017 which approved community as a non-farm use within the ALR, inconsistent with an ALC order.
"Islands Trust staff said the Galiano land had been excluded from the ALR, but it wasn't," says Sketch. "Extraordinarily, both trust executive and the Minister [of Municipal Affairs and Housing] approved an OCP amendment which allowed community housing on land which remains in the ALR with no ALC permission in law."
During the June 20 meeting, held on Saturna Island, current ALC chair Jennifer Dyson and ALC CEO Kim Grout presented statistics on ALR applications and agricultural land use in the trust's area, and answered trustees' questions. The public were not allowed to ask the chair of the ALC questions directly, but rather had to submit them to a trustee to be asked. ALC representatives did not attend the public delegation session where Sketch questioned the apparent disconnect between the ALC and Islands Trust.
Dyson's and Grout's presentation indicated that ALR land was less than 2% of the Islands Trust's 520,000 hectares (1.3 million acres), with small parcels less likely to be farmed than larger parcels. Natural vegetation covers up to 60% of the ALR.
Since the formation of the ALR, there have been 385 completed applications to the ALC in the Islands Trust area: 18% for exclusion, 11% for inclusion, 42% subdivision applications and 29% for non-farm use.
Both the Islands Trust and the ALC were formed by the NDP government of the 1970s as unique agencies intended to "preserve and protect" land.
Tagged in:
Related Articles:
Cranberry venture bogged down in legal wrangling
DELTA – Don Malenstyn has all but given up on his career and passion after losing an appeal of a […]
Originally Published:
August 2018
Vol. 104 Issue 8
STORIES IN THIS EDITION
First Cut
Hog farm won't face charges
Okanagan drives land values
Where's the beef?
Minister defends Bill 15 changes
Back Forty: Farmers, not just farmland, need revitalization
Editorial: No peace, no order
ALR restrictions make commuting a fact of life
Johnston's Packers targeted by activists
Child labour
Sidebar: When is a crime not a crime?
Berry growers get long-awaited funding boost
Proteobiotics reduce poultry, swine infections
Greenhouse growth stymied by gas prices
Bloom
Increase farm productivity with cover crops
Ag Briefs: Water fees not evenly distributed among users
Ag Briefs: BC Tree Fruits prepares to relocate
Farmland trust explored for Island
New owner, same faces
Fruitful experience
Fruit growers cautiously optimistic on bloom set
Honeycrisp key to success for Golden Apple winners
Changes to slaughter rules taking too long
Going! Going! Gone
Local meat deamnd creating opportunities
Sidebar: Compost in 14 days
Ranch takes pasture to plate at face value
Market Musings: Technology has its challenges
Oliver veggie grower prefers wholesale
Grocer offers tips to get a foot in the door
Greenhouse veggie days a hit with school
Haskap research may help berry go mainstream
Grow up!
Research: Bee sensitivity linked to neonic pesticides
Fraser Valley orchardist calling it a day
Rally cry
Worming his way to the top of the heap
Mushrooms a viable crop for small growers
Island 4-H beef show celebrates 25 years
Woodshed: Deborah starts her vacation a golf widow
Brewery's food program spawns farm project
Jude's Kitchen: Celebrate dads!
More