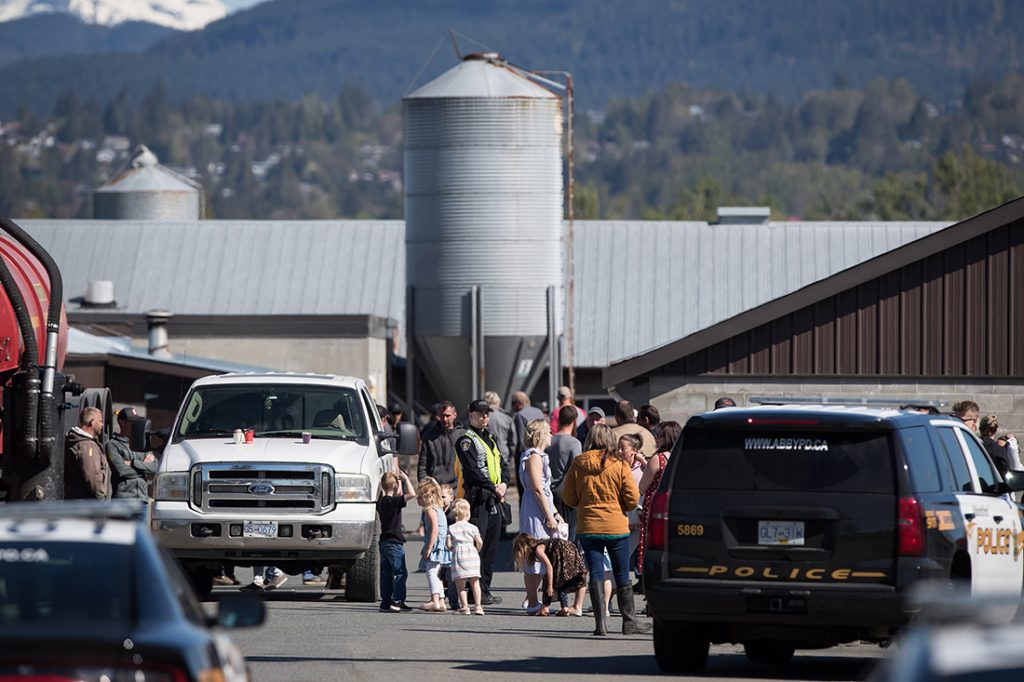 Police ask farmers to be vigilant
by PETER MITHAM
ABBOTSFORD – BC SPCA is declining to press charges against an Abbotsford hog farm targeted by animal rights activists.
Representatives of the association, which is responsible under the province's Prevention of Cruelty to Animals Act to investigate complaints and enforce laws related to animal welfare, visited the farm in early May and found no grounds for charges.
"We utilized the code of practice for hog farming, and have determined at this point that we will not be proceeding with any charges against Excelsior Hog Farm," says Shawn Eccles, senior manager, cruelty investigations, with the BC SPCA.
The visit occurred more than a week after People for the Ethical Treatment of Animals (PETA) provided a video to CTV allegedly documenting instances of inhumane conditions at the farm. An initial visit was pre-empted, Eccles said, by a protest at the farm on
April 28 that saw more than 50 activists invade the farm's barns and more than 100 gather outside.
"We had made arrangements to attend the farm with appropriate individuals that had training or experience in hog farms and a protest occurred," explains Eccles. "We assessed what we saw on the date that we were on the farm, and at this point there is no evidence to warrant a charge."
The activists' intervention prevented the prompt investigation of the complaint by the proper authorities, and the fact that the person who shot the video never stepped forward to back up the evidence left investigators with no grounds for pursuing the matter.
"We can't attest to the veracity of the video," says Eccles. "As a policing agency, [we] have to rely on evidence … that I have either through eyewitness testimony – which I don't have – or physical evidence."
However, some members of industry are criticizing BC SPCA's handling of the matter, saying it didn't act fast enough, or clear the air when it finally determined there were no grounds for pursuing charges.
The video followed a break-and-enter at Excelsior in late March during which surveillance cameras were installed. Those cameras were removed, and Abbotsford police are investigating.
The force's communications officer, Sergeant Judy Bird, said the two incidents are subject to separate investigations. Bird said evidence is being collected to see if there are grounds for prosecuting those responsible for either incident.
The latest incident saw police identify and secure contact information for 50 protestors. Just one arrest was made, but the individual, Amy Soranno of Okanagan Animal Save, was released pending a court appearance.
"Our investigation continues, and we will be looking at charges for the protestors with respect to break-and-enter and mischief," Bird said of the protest.
While farm invasions are rare in Canada, Bird said the protest is a reminder that such incidents are possible. She encourages farmers to report suspicious activity on their properties to police.
"I don't recall us having anything like this in Abbotsford before," she said. "This puts an extra reminder on us that this has the potential to happen again in the Fraser Valley."
CANADIAN PRESS PHOTO
Related Articles:
May 1, 2019
The invasion of an Abbotsford hog farm by protestors shortly after dawn on April 28 was the culmination of days […]
Originally Published:
June 2019
Vol. 105 Issue 6
STORIES IN THIS EDITION
First Cut
Hog farm won't face charges
Okanagan drives land values
Where's the beef?
Minister defends Bill 15 changes
Back Forty: Farmers, not just farmland, need revitalization
Editorial: No peace, no order
ALR restrictions make commuting a fact of life
Johnston's Packers targeted by activists
Child labour
Sidebar: When is a crime not a crime?
Berry growers get long-awaited funding boost
Proteobiotics reduce poultry, swine infections
Greenhouse growth stymied by gas prices
Bloom
Increase farm productivity with cover crops
Ag Briefs: Water fees not evenly distributed among users
Ag Briefs: BC Tree Fruits prepares to relocate
Farmland trust explored for Island
New owner, same faces
Fruitful experience
Fruit growers cautiously optimistic on bloom set
Honeycrisp key to success for Golden Apple winners
Changes to slaughter rules taking too long
Going! Going! Gone
Local meat deamnd creating opportunities
Sidebar: Compost in 14 days
Ranch takes pasture to plate at face value
Market Musings: Technology has its challenges
Oliver veggie grower prefers wholesale
Grocer offers tips to get a foot in the door
Greenhouse veggie days a hit with school
Haskap research may help berry go mainstream
Grow up!
Research: Bee sensitivity linked to neonic pesticides
Fraser Valley orchardist calling it a day
Rally cry
Worming his way to the top of the heap
Mushrooms a viable crop for small growers
Island 4-H beef show celebrates 25 years
Woodshed: Deborah starts her vacation a golf widow
Brewery's food program spawns farm project
Jude's Kitchen: Celebrate dads!
More